TALC
Overview:
Most people are familiar with the mineral talc. It can be crushed into a white powder that is widely known as "talcum powder". This powder has the ability to absorb moisture, oils and odor, serve as a lubricant and produce an astringent effect with human skin. These properties make talc powder an important ingredient in many baby powders, foot powders, first aid powders and a variety of cosmetics. Talc is usually green, white, gray, brown or colorless. Talc is a translucent mineral with a pearly luster. Talc is the softest known mineral and is assigned a hardness of 1 (as compared to a diamond's hardness of 10) on the Mohs Hardness scale.1
Talc has a variety of other uses as well. Of the total talc consumed during 2011 in the United States, 26% of the talc was used in the manufacturing of plastics, 17% of the talc consumed was used in the manufacturing of ceramic products such as bathroom fixtures, ceramic tile, pottery and dinnerware, while both the paint and the paper industries each consumed16% of the talc produced. Also in 2011, about 7% of the talc consumed in the United States was used to make cosmetics and antiperspirants.2
More recently, talc has come under some scrutiny as a possible carcinogen.3
Characteristics and Challenges:
Talc is characterized by hydrophobic surface properties, chemical inertness and a slippery feeling. Although all talcs share the same basic properties - inertness, softness, water repellency and an affinity for organic substances - each talc ore body has its own features, so no two talcs are quite the same.4
Generally, talc is a semi-free flowing powder, talc smears and tends to fluidize, meaning the fine talc particles take on characteristics of a liquid. Talc powder is best kept as dry as possible.
Once it is wet, talc in powder form becomes very slimy and is extremely hard to handle as a heavy precipitate.
Emissions screening is a key component of successful talc conveying. Fabric filters are commonly used to control emissions during conveying, classifying, storage silo loading, and bagging operations.
Air-tight connections and flow-promotion devices on conveying equipment may be necessary. If the talc arrives at the processing facility in bulk bags, the frames used to discharge the bags should be equipped with additional accessories to completely empty the talc during the discharge process. This includes features such as spring-loaded frames and bag activating devices that stretch the bag during discharge. Some of these bag activating devices will also serve as an airtight connection between the bulk bag discharger and the receiving hopper.
A dust collector mounted on the discharger frame will help to keep talc dust from escaping into the facility. This not only helps to safeguard worker health by reducing airborne particles, but should improve plant cleanliness and reduce the amount of housekeeping efforts usually associated with the movement of talc.
If the talc is packaged in manual dump bags, a bag emptying station with a dust hood, filtration devices and a pneumatic pulse cleaner are likely sufficient to support the manual unloading of the material.
Feed hoppers should be designed with proper geometry and may need to incorporate devices such as vibrators to aid in the densifying this highly aeratable material. A hopper screen above the receiving vessel will help protect the operators if the talc is being dumped manually into a hopper that is equipped with agitating devices.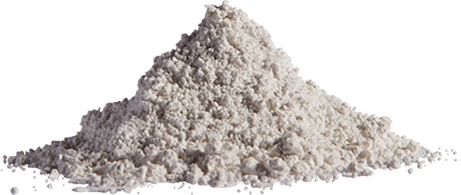 Care should be taken when determining the types and placement of capacitive level sensors in the receiving hoppers when conveying talc. An evaluation of both the material and the system used to handle it is recommended. In some instances, vibrating forks and probes or rotating paddles are more reliable in sensing the levels of the talc in the vessel.
Talc powder is best handled by the conveyance machinery gently so as not to become too aerated. If a flexible screw is being used to convey talc, a screw with a wider, flatter surface than the standard-sized screw is a required choice. If the talc is being pneumatically conveyed into a processing system, the blower used to move the airline must be sized to meet the system. If ambient or storage vessel moisture is an issue, an inline air dryer that powerful enough to extract the moisture is an effective aid in maintaining the flow of talc.
Should your talc application feature the loading of bulk bags, the use of load cells and vibratory densification decks will greatly maximize the capacity of the bulk bags.
Flexicon Applications:
Handled incorrectly, the talc powder readily escapes as nuisance dust that will settle on equipment and fixtures.
1 Geology.com: Talc
2 Ibid
3 American Cancer Society: Talcum Powder and Cancer
4 Industrial Minerals Association: Talc
Sources: Where noted. All other information courtesy of Flexicon Corporation.
Related Articles on Talc: