CASE HISTORIES
Automated Powder Unloading Halves Batching Time
In producing epoxy mastic, Polymeric Systems, Inc. cut batching time from 3.0 to 1.5 hours by switching from manual dumping of 50-lb (28 kg) bags of dry inorganic powder to automated weigh batching directly from bulk bags. The system contained dust and reduced potential injuries related to manual lifting and emptying of bags.

Operators previously dumped 50-lb (28 kg) sacks of dry inorganic powder, up to 32 bags per batch, into a 250-gallon (950 liter) kneader-extruder or one of two 100-gallon (380 liter) kneader-extruders. Today, three Flexicon bulk bag dischargers, each equipped with an 8 cu ft (226 liter) capacity receiving hopper and 10 or 15 ft (3-4.5 m) long, 4.5-in (11.4 cm) diameter flexible screw conveyor, unload powder from 2500-lb (1135 kg) bulk bags as the flexible screw conveyors convey the material in pre-selected batch weights to any of three kneader-extruders under loss-of-weight control.



Batch weights, recipes set in 60 seconds


Because sack weights fluctuated by up to 5 lb (2.25 kg), operators weighed each sack and adjusted for variations. Now, adjusting a batch weight, or selecting one of Polymeric's nine epoxy mastic recipes, requires a one-minute entry on the control panel. The operator is freed for other tasks rather than being tied to the batching process. The only manual task involves adding small amounts of minor fillers from 50-lb (28 kg) bags into the hopper, which is equipped with a bag tray support and hinged cover.



Weigh batching system accurate to ±0.12%


A control panel entry initiates unloading of the bulk bag and conveying of talc in precisely weighed batches to the kneader-extruder. As a bag empties, load cells supporting the discharger frame transmit weight-loss signals to the controller which steps down the conveyor to a dribble feed rate immediately prior to stopping the conveyor once the accurate batch weight has been unloaded. Batches between 400 and 1600-lb (180-720 kg) are accurate to 2 lb (0.9 kg).



Flow promotion devices move stubborn powder


Flow promotion devices integral to the bulk bag discharger frame promote a continuous flow of material into and through the bag discharge spout. A manual SPOUT-LOCK® clamp ring mounted atop a TELE-TUBE® telescoping tube creates a sealed connection between the clean side of the bag outlet spout and the clean side of the telescoping tube. As the bag empties and elongates, the telescoping tube keeps the spout taut at all times by maintaining constant downward tension, preventing excess spout material from bulging outward (creating dead pockets) or falling inward (creating flow restrictions).

FLOW-FLEXER® bag activators raise and lower opposite bottom edges of the bulk bag at timed intervals, promoting material flow into the bag discharge spout. As the bag lightens, the stroke of the bag activators increases, raising the bag into a steep "V" shape for total evacuation of material.

A pneumatic turbine vibrator in the hopper promotes the flow of powder into the flexible screw conveyor's charging adapter.

For leak proof retying of partially empty bags, a POWER-CINCHER® flow control valve employs a series of curved, articulated stainless steel rods that cinch the spout concentrically on a horizontal axis and vertically in a tight zig-zag pattern, preventing leakage of the finest powders.



Dust-tight system prevents contamination


The dry inorganic powder remains fully enclosed as it travels throughout the sealed system of interconnected equipment comprised by the bulk bag discharger, hopper, flexible screw conveyor and kneader-extruder, preventing contamination of the product and plant environment. Previous bag dumping in open air created dust and allowed paper scraps to enter the batch.

Each flexible screw conveyor consists of a durable plastic outer tube enclosing a model 1450 conveyor spiral, specially designed to accommodate the highly aeratable inorganic powder. Flexicon applications engineers also incorporated several design elements to overcome the challenges associated with handling the powder.

John Kimmich, plant manager, was introduced to the equipment at a trade show, and visited the Flexicon test laboratory in Bethlehem, PA where full size equipment was configured to simulate Polymeric Systems' installation, and operated using the company's actual material, verifying system performance prior to fabrication.

Kimmich says, "The system enables us to switch to different products rapidly, meeting the needs of customers in the OEM, do-it-yourself and retail markets." He expects the system to pay back in less than two years from the labor savings and productivity gains.

In addition to bulk bag dischargers and flexible screw conveyors, Flexicon manufactures pneumatic conveying systems, bulk bag fillers, manual dumping stations, drum dumpers, weigh batching and blending systems and plant-wide bulk handling systems with automated controls.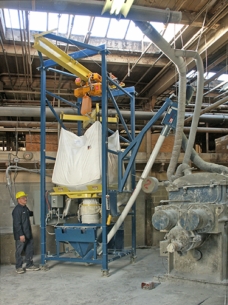 Click to enlarge
One of three Flexicon bulk bag weigh batch unloading systems equipped with 8 cu ft (226 liter) capacity receiving hoppers and 4.5-in (114 mm) diameter flexible screw conveyors, discharges powder from 2500-lb (1135 kg) bulk bags, transporting it under loss-of-weight control to any of three kneader-extruders. A bag tray support and hinged hopper cover allow manual additions of minor ingredients.
R-0723