CORN MEAL
Overview:
Also known as Indian Meal, corn meal is essentially whole corn kernels ground into smaller particles. The grinding process normally involves either traditional (stone) or modern (steel) grinding equipment. Stone-ground corn meal retains more of the hull and germ of a corn kernel, which results in more flavor and nutritional value. However, steel-ground corn meal has a longer shelf life than stone-ground corn meal.
Corn meal is used to produce tortillas, corn bread, muffins, fritters, hush puppies and spoon bread. It is also used as an ingredient in products such as corn meal mixes, cereals, bakery and pancake mixes and snack foods. A finer granulation of corn meal is sold as corn cones which are used in many bakery mixes or as dusting meal for pizzas, English muffins, and other similar products.
Due to corn meal's caloric and high-quality protein content, three different corn meal products are purchased by the U.S. government for distribution under its food donation program. These products are regular corn meal, soy fortified corn meal and corn soy blend (CSB).1
Characteristics and Challenges:
Many grades and granulations of corn meal are available. Most grades of corn meal have an average bulk density of 40 lbs/cu ft.2 The particle size of corn meal may influence the texture and "mouth feel" of the final product. Generally, finer particles of corn meal will produce a softer "bite," while larger particles are desired for foods that expected to exhibit a more crunchy texture.3 Fine particles tend to separate to the bottom of the vessel, potentially resulting in an undesirable segregation of corn meal particles during processing.
If the corn meal arrives at the processing facility in bulk bags, the frames used to discharge the bags should ideally be equipped with additional accessories to completely empty the corn meal from the
bag. This includes features such as spring-loaded frames that will stretch the bags as they empty and lighten, making them rigid and removing any residual accumulations of corn meal in the bags. Bag activating devices are usually effective in agitating the corn meal, dislodging collections of corn meal, promoting a better flow. Some of these bag activating devices also serve as a dust tight seal between the bulk bag and the receiving hopper.
The dust generated during corn meal processing has been identified as a combustible dust.4 Dust containment methods are a crucial feature to consider when conveying corn meal.
After the bulk bag has been connected to the receiving hopper and the corn meal begins to flow, the air inside the hopper is forced out. Unless this air passes through a filter, airborne dust particles can escape into the surrounding atmosphere. A dust collector mounted on the discharger frame will contain the corn meal inside the conveyance system, lowering the risk of a potentially dangerous dusting. Corn meal dust trapped in the filter media can be returned to the receiving hopper by a pneumatic pulse through the filter. This reduces waste and the time necessary to perform the routine cleaning and sanitation typically required in most food processing environments.
Coarser particles of corn meal will tend to interlock in hoppers, impeding its flow into downstream processing equipment. To promote flow, the feed hoppers may need to incorporate devices such as mechanical agitators or vibrators.
If the corn meal is packaged in smaller bags, a bag-breaking station with a dust hood, filtration devices and a pneumatic pulse cleaner is the recommended solution to support the manual unloading of the material. A hopper screen above the receiving vessel will help to prevent the introduction of foreign objects and protects the operators if the corn meal is being dumped manually into a hopper that is equipped with agitating devices.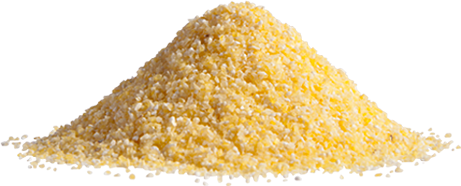 If the corn meal is being pneumatically conveyed into a processing system, the blower used to move the corn meal though the convey line must be sized to meet the system. Care must be taken to ensure that corn meal's sometimes abrasive properties do not damage the convey line.
If a flexible screw is being used to convey the corn meal, it is important to use a screw that matches the corn meal's characteristics and other application requirements. Generally a screw with a round profile will be effective in moving a material with corn meal's characteristics (including dissimilar particle sizes, bulk densities and flow characteristics) to a filling machine undamaged and with no separation of blended products.
Should your corn meal application feature the loading the material into bulk bags, the bag capacity will be maximized by use of a vibratory densification deck to de-aerate the corn meal as it fills the bag and by the application of load cells to achieve the desired weight. Seals and other dust containment devices will ensure a dust-tight operation.
Flexicon Applications:
A Flexicon flexible screw conveyor (also known as a helix conveyor, screw conveyor, spiral conveyor and auger conveyor) helped an organic food manufacturer convey disparate ingredients with no separation of the blend.
A Flexicon automated cornmeal handling system, designed and engineered for a Pennsylvania, USA snack food manufacturer
improved their product quality and paid for itself in seven months
.
Consultation with a Flexicon specialist will help you decide if a flexible screw or pneumatic solution best fits your corn meal application. Flexicon's expert design and engineering staff will weigh each parameter and recommend the best solution for you. Upon request, Flexicon's test lab will simulate your corn meal handling applications before the system is installed in your plant.
Flexicon's Dust Suppression and Collection Systems ensure proper containment of corn meal throughout the conveyance process. Flexicon's High Flow Hopper, purpose-built for flexible screw conveyors, increases the flow of both free- and non-free-flowing bulk materials while eliminating or decreasing the amount of residual material in the hopper as well as the need for flow promotion devices is perfectly suited for corn meal handling.
Flexicon's product line of advanced flow promotion conveyors, high flow hoppers, deaeration/densification decks and a host of other components and accessories are proven performers that promote flow while reducing degradation, dusting and/or the separation of blends comprised of disparate particles.
1 North American Millers' Association: Corn Milling Process
2 Powder Bulk Solids: Bulk Density Chart
3 Booth, Snack Food, p.120 ©1990, Van Nostrand Reinhold
4 North Carolina Department of Labor: Guide to Combustible Dusts
Sources: Where noted. All other information courtesy of Flexicon Corporation.
Related Articles on Cornmeal: