NEWS RELEASES
Sanitary Bag Dump Station
A new Flexicon
Sanitary Bag Dump Station
for
pneumatic conveying systems
collects dust created during
manual dumping
of bulk materials from bags, boxes, drums and other containers, and allows rapid, tool-free wash down, according to David Boger, Flexicon's Vice President Sales and Marketing.
Optional rocker arms support the hood assembly above the hopper rim, eliminating the need for operators to lift and remove the hood during cleaning and inspection.
Similarly, a stainless rotary airlock valve at the hopper discharge is equipped with integral support rails that allow the rotor assembly to separate from the valve body for sanitizing of all material contact surfaces, and to close securely in seconds, also without tools.
A high velocity vacuum fan draws airborne dust from the operator's atmosphere onto two cartridge filters. Automatic reverse-pulse filter cleaning allows continuous, efficient operation; timer activated solenoid valves release short blasts of compressed plant air inside cartridge filters causing dust build-up on the outer filter surfaces to fall into the hopper.
Filters are accessed easily by removing the interior baffle, and replaced rapidly using quick-disconnect fittings.
The all-stainless unit is also offered with an integral flexible screw conveyor, or with universal hopper discharge flange for connection to downstream process equipment, and is available mounted on frames with casters for in-plant mobility.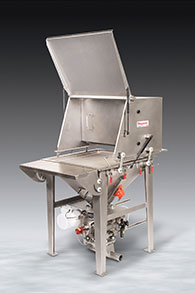 Click to enlarge
Optional rocker arms allow the hood assembly to separate from the hopper rim, allowing thorough, rapid wash down.
Integral support rails on this stainless steel rotary airlock valve allow tool-free separation of the rotor assembly from the valve body for sanitizing of all material contact surfaces.