NEWS RELEASES
Bulk Bag Filling with Pneumatic Feeding
BETHLEHEM, PA — A new automated
bulk bag filling system
feeds material to a cantilevered, rear post bulk bag filler using a dilute phase pneumatic
gain-in-weight batching system
, achieving high filling rates, announced David Gill, president of Flexicon Corporation.
The filter receiver of the pneumatic conveying system is mounted on load cells, enabling the system controller to stop the conveyor once a pre-selected batch weight, equivalent to that of one full bulk bag, has been accumulated.
An operator-controlled slide gate valve allows the weighed batch to descend at high rates from the filter receiver into the bulk bag, after which the valve is closed and a subsequent batch is weighed.
"Weighing of batches independent of bulk bag filler allows simultaneous recharging of the filter receiver and replacement of filled bulk bags with empty bags, cutting overall cycle times up to 50 percent," says Gill.
The REAR-POST bulk bag filler employs a cantilevered fill head that provides three-sided access to bag straps and is equipped with: inflatable collar to hold and seal the bag inlet spout, pneumatically retractable bag strap hooks, air displacement vent port, automated vibratory densification/ deaeration system, inflator to expand empty bags, and powered fill head height adjustment.
In addition to the filter receiver and weigh batching controls, the pneumatic conveying system is equipped with a vacuum pump and rotary airlock valves configured for integration with existing process equipment.
Other bulk bag filling-related equipment offered by the company includes: powered or gravity roller conveyors; forward-traveling, rear bag strap hooks; pallet-jack accessible bases; and patented TWIN-CENTERPOSTTM models in industrial, food and USDA Dairy Accepted construction and finishes.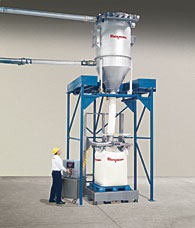 Click to enlarge