NEWS RELEASES
Tubular Cable Conveyor Factory-Integrated
automated controls, and is factory-tested for seamless integration with the conveyor and the user's process, according to the company.
The FLEXI-DISC® conveyor moves material using high-strength polymer discs in 4 in. (10 cm) and 6 in. (15 cm) diameters that are affixed to a stainless steel cable. The discs glide within smooth stainless steel tubing, moving fragile products gently, quietly and dust-free, horizontally, vertically or at any angle, through small holes in walls or ceilings. The system can have single or multiple inlets and outlets, and convey over short distances or hundreds of feet/meters.
Gentle handling offered by the conveyor makes it suitable for food products that are prone to breakage or degradation
including: cereals, coffees, teas, dried fruits, frozen vegetables, grains, nuts, beans, peas, pet foods, seeds, snack foods and spices. Typical non-food applications include bulk chemicals, minerals, chopped fiberglass, microspheres, regrind, pellets, tobacco and other friable materials.
Modular system components of 304 or 316 stainless steel include tubing, drive wheel housings, tension wheel housings, metered and non-metered inlets, and discharges with and without valves, as well as accessories for wet or dry cleaning, including CIP sanitizing.
Free testing is offered at Flexicon test laboratories on full-scale Tubular Cable Conveyors and upstream equipment that simulate customer processes.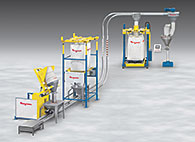 Click to enlarge
FLEXI-DISC® Tubular Cable Conveyors for gentle transfer of fragile materials shown factory-integrated with upstream and downstream equipment.