Garnet
Overview:
Garnet is commonly associated with a red-hued birthstone for the month of January. However, Garnet occurs in several other colors and has many industrial applications, including waterjet cutting, abrasive blasting media, water filtration granules, and abrasive powders1. Garnet is generally found inside of metamorphic rock, which is formed under both high temperatures and pressure, which causes the isometric Garnet crystals to form. Various types of Garnet can be found in many regions, most of them in the Southern Hemisphere; however, it's production as an abrasive is occurs mainly in India, China, Australia and the United States. On the cost per karat spectrum, Spessartite Garnet tends to be the most expensive, while other types of Garnet such as Almandine, Pyrope and Rhodolite have a lower cost per karat.2
Garnet is ideal for cutting and blasting, as the process of crushing it causes the Garnet to break into angular pieces with sharp edges. Garnet has a high level of hardness (7.5 to 8.5 out of 10) on the MOHS scale and is chemically inert, meaning it will not interact with the material the Garnet is being used to cut or blast. There are generally two types of abrasive Garnet, blasting grade, and waterjet grade. All pieces which are larger than 60 mesh (250 micrometers) are normally used for sand blasting. The pieces between 60 mesh (250 micrometers) and 200 mesh (74 micrometers) are normally used for waterjet cutting. The remaining Garnet pieces that are finer than 200 mesh (74 micrometers) are used for glass polishing and lapping. Regardless of the application, the larger grain sizes are used for faster work and the smaller ones are used for finer finishes.3
Characteristics and Challenges:
Equipment selection is paramount to ensure the longevity of the system. A Garnet conveying system must be rugged enough to withstand the impact of the material on the interior surfaces and moving parts of the conveying line and equipment. With an average bulk density of 150 lbs/cu ft (2,406 kg/m3), Garnet is generally free flowing. Entry of Garnet particles into gears, valves or other moving parts could result in equipment damage. In some applications, the shape and purity of the Garnet is important, so care must be taken to avoid degradation while handling it. Coarser particles of Garnet tend to interlock, potentially impeding their flow into downstream processing equipment. Wet Garnet will jam and otherwise strain conveying systems, so the material should remain as dry as possible during transportation and storage to a cutting or abrasive application.
If the Garnet arrives at the processing facility in bulk bags, the frames used to discharge the bags should ideally be equipped with additional accessories to completely empty the Garnet from the bag. These include features such as spring-loaded frames that will elongate and stretch the bags, making them rigid and removing any pockets of Garnet cornered in the bags. Some of these bag activating devices also serve as a dust seal between the bulk bag and the receiving hopper.
After the bulk bag has been connected to the receiving hopper and the Garnet begins to flow, the air inside the hopper is displaced. Dust suppression during the dumping and de-gassing of the bulk bags can be achieved by means of a high-volume fan drawing dust onto cartridge filters. This arrangement can also act as a vacuum that evacuates the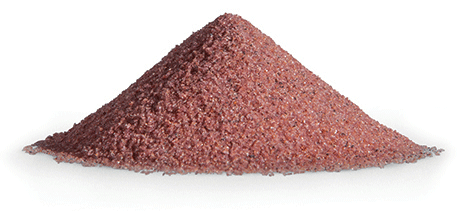 bulk bags post discharge, eliminating the potential dusting that could occur when the bags are removed and folded prior to storage or disposal. Dust accumulated on the cartridge filters can be dislodged by automatic reverse-pulse blasts of air that returns the dust to the receiving hopper, reducing material waste and plant contamination.
If the Garnet is being fed into the processing system manually from handheld bags, a bag-breaking station with a dust hood, filtration devices and pneumatic reverse-pulse cleaner is the recommended solution. A hopper screen above the receiving vessel will help to prevent the introduction of foreign objects and protect operator from moving components inside the hopper.
If a flexible screw or auger is being used to convey the Garnet, it is important to use a screw that is matched to Garnet's flow characteristics, generally one with a round profile. Due to Garnet's abrasiveness, a heavy duty flexible screw is recommended.
Should your Garnet application require the loading of material into bulk bags, the bag capacity will be maximized by use of a vibratory densification deck, to densify and level the Garnet as it fills the bag, and by automated controls that fill the bag by weight. Seals and other dust containment devices will ensure a dust-tight operation.
Flexicon Applications:
Flexicon's JET-FEED™ Garnet delivery system can feed Garnet directly from bulk bags into a flexible screw conveyor, discharging the Garnet into the waterjet's pressure pot where it is mixed with water for metal cutting. This system allows Garnet to be purchased in Bulk bags at reduced cost, and fed to the waterjet's pressure pot(s) automatically, improving uptime, safety and plant hygiene. A Flexicon specialist can help you decide if a flexible screw or pneumatic solution best fits your Garnet conveying application. Upon request, Flexicon's test lab can simulate your Garnet handling application, taking the risk and guesswork out of purchasing a system.
Flexicon's Dust Suppression and Collection Systems contain Garnet throughout the conveying process, while Flexicon's BLOCK-BUSTER® Bulk Bag Conditioners loosen Garnet that may have solidified during storage and shipment, enabling bulk bag unloaders to discharge the material.
Flexicon's high flow hoppers, deaeration/densification decks, FLOW-FLEXER® bag activators, BLOCK-BUSTER® Bulk Bag Conditioners, pneumatic vibrators and other equipment can be integrated with Flexicon conveyors, dischargers and fillers for efficient flow promotion in any Garnet handling application.
Related Articles on Garnet: