BLOCK-BUSTER®
BULK BAG CONDITIONERS
Loosen material solidified in bulk bags
BLOCK-BUSTER® Bulk Bag Conditioners press bulk bags between two hydraulically driven conditioning plates, to crush and loosen bulk mining materials that have solidified during storage and shipment. Bulk bags can be raised, lowered, and rotated for complete conditioning on all sides at all heights, using automated turntables and scissor lifts, or electric hoist and trolley assemblies.
FLEXICON® BULK BAG FILLERS
Fill dense, abrasive, clumped material in low to high capacities
Rugged Bulk Bag Fillers range from simple, manual models to automated, high capacity models with pallet dispensers, chain conveyors and roller conveyors (shown), weigh-filling one bulk bag per week to 20 per hour. Purpose-built mining models handle problematic materials such as filter concentrate/cake. Available integrated with mechanical or pneumatic conveyors to deliver material from any source.
BULK-OUT® BULK BAG UNLOADERS
WITH INTEGRAL CONDITIONERS
Unload free- and non-free-flowing materials automatically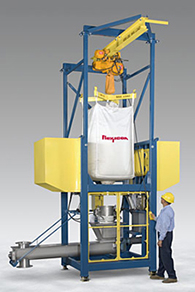 BULK-OUT® Bulk Bag Unloaders with integral BLOCK-BUSTER™ Bulk Bag Conditioners promote complete, dust-free unloading of free-flowing and non-free-flowing materials from bulk bags. Models available for insertion of bulk bags via hoist and trolley (shown) or forklift. Shown with optional load cells for weigh batching, POWER-CINCHER® Flow Control Valve and auger feeder.
FLEXICON® FLEXIBLE
SCREW CONVEYORS
Transport difficult-to-handle and abrasive bulk materials dust free
Flexicon Conveyors transport large pellets to sub-micron powders — including materials that can fluidize, degrade, pack, cake, smear, seize or plug in other conveyors — with no separation of blended products. Convey vertically, horizontally, or at any angle. The only moving part contacting material is a rugged flexible screw, increasing reliability and cutting maintenance.