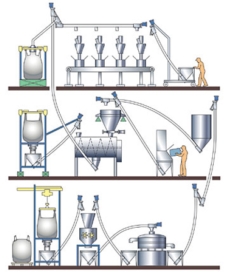 Click to enlarge
Figure 1. Flexible screw conveyor system - Properly engineered flexible screw conveyor systems can transport free-flowing and non-free-flowing bulk materials at any angle, through small holes in walls or ceilings. The screws and tubes of certain designs can be curved under, over or around obstructions, eliminating the need for exact conveyor routing.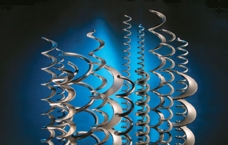 Click to enlarge
Figure 2. Flexible screws - The geometry of flexible screws can be engineered to optimize efficiency for free-flowing as well as non-free-flowing bulk materials, including blends comprised of ingredients that tend to separate.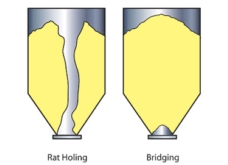 Click to enlarge
Figure 3. Flow restrictions in bins and hoppers - Rat Holing (left) describes a ragged, tunnel-shaped void through stagnant material in the vessel. Bridging (right), also known as doming or arching, describes a void area at the vessel outlet. Both rat holing and bridging completely prevent the flow of material.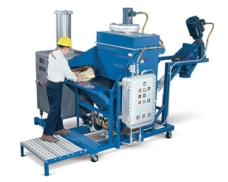 Click to enlarge
Figure 4. Mobile bag dump-conveying unit - This self-contained, dust-free mobile bag dump-conveying system moves adhesive ingredients of differing flow characteristics and bulk densities.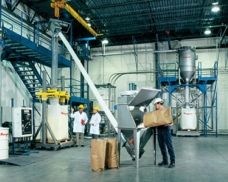 Click to enlarge
Figure 5. Full-size test equipment - A sealant producer needed to convey a diversity of ingredients from the main floor into two high-speed dispersers on a 10 ft (3 m) high mezzanine. To successfully move the difficult-to-convey materials required testing of the bag dump station and hopper with full-size flexible screws of various diameters, lengths, and screw geometries, at various inclines and rotational speeds.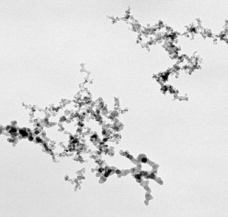 Click to enlarge
Figure 6. Electron micrograph of fumed silica at 100,000x magnification - With a bulk density of 2.5-3 lb/ft3 (40-50 kg/m3) fumed silica is an ultra-light powder, its chain-like particle morphology contributing to the characteristics that make it difficult to handle.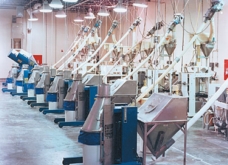 Click to enlarge
Figure 7: Multiple flexible screw conveyors - Flexible screw conveyors can prevent product degradation and separation of blends comprised of materials having disparate particle sizes and flow characteristics.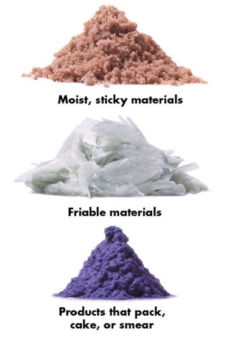 Click to enlarge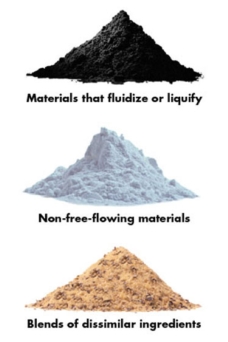 Click to enlarge
Difficult-to-handle materials - Flexible screw conveyors can be designed to handle a wide variety of bulk materials with disparate physical properties and flow characteristics such as the above.