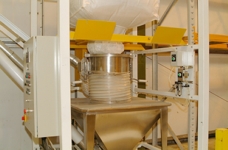 Click to enlarge
Fully enclosed system, comprised of bulk bag discharger, receiving hopper, flexible screw conveyor, and transfer bin, dramatically reduces operator exposure to airborne dust.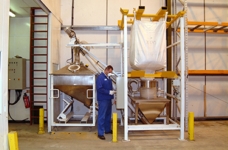 Click to enlarge
SPOUT-LOCK® clamp ring and pneumatically actuated TELE-TUBE® telescoping tube allow dust-tight connections between bag spout and hopper, and automatic elongation of the bag as it empties for total evacuation of material.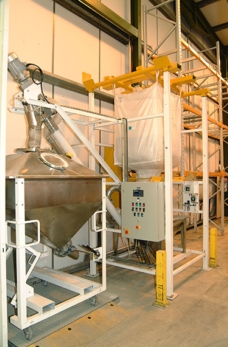 Click to enlarge
The transfer bin is mounted on a platform scale, which transmits gain-in-weight signals to a controller that runs, slows, and stops the conveyor, achieving rapid batching cycles and +/- 0.04 percent batch weight accuracy.