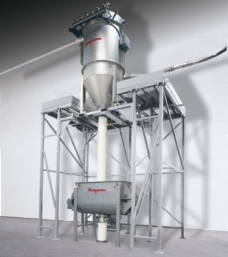 Click to enlarge


Dilute Phase Pneumatic Conveying System shown discharging weighed batches into a Ribbon Blender



Flexible screw conveyors (also known as spiral, helix or centreless auger conveyors), consist of a flexible screw contained in a flexible or rigid tube that is driven by an electric motor. Materials of construction are specified according to application, with the screw fabricated of carbon or stainless steel, and the outer tube being of plastic or steel. It is a relatively simple design, and generally the most economical choice, with efficient performance, high reliability, and low capital and operating costs. When properly engineered and tested, it will provide excellent performance across a broad range of applications. There are also systems specifically designed to convey difficult-to-handle plastic materials that tend to pack, cake, smear, melt or fluidise, as well as fragile or brittle materials prone to breakage or crumbling, and reinforced compounds prone to damaging other types of conveyors.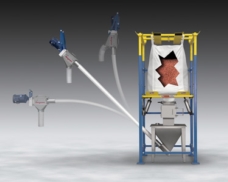 Click to enlarge


Flexible Screw Conveyor shown integral to a Bulk Bag Discharger



Tubular cable conveyors (also known as drag or disc conveyors), consist of low friction polymer discs attached to a steel cable. The discs and cable are driven by a wheel at one end of the circuit, while a second wheel maintains the cable's tension. The entire circuit is enclosed inside steel tubing. Tubular cable conveyors gently slide bulk solid material at relatively slow speeds through this tubing in the space between the discs. A truly "modular" system, tubular cable conveyors can have multiple inlets and outlets (which may be added or moved). The conveyor's pathway may be horizontal or vertical or at nearly any angle.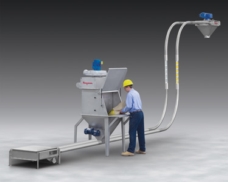 Click to enlarge
Tubular Cable Conveyor shown being fed by a Manual Dumping Station