CONFIGURATIONS
Pneumatic Weigh Filling System
A pneumatic gain-in-weight filling system for free-flowing bulk solids conveys and weighs the material, and discharges it into bulk bags.

The filter receiver of the PNEUMATI-CON® vacuum dilute-phase pneumatic conveying system is mounted on load cells, enabling the system controller to weigh incoming material at high rates, and then at steady dribble-feed rates, stopping the flow once an accurate batch weight has been reached.

Pressing a "fill" button on the control panel actuates a bag inflation blower on the TWIN-CENTERPOST™ bulk bag filler to remove creases in the bag, and opens a slide gate valve at the outlet of the filter receiver, allowing the weighed batch to gravity discharge into the bag at high rates, as a vibratory deck densifies the material to stabilize the bag. A secondary set of load cells mounted beneath the bulk bag filler allows the system to confirm the final weight of the filled bulk bag.

A port within the discharge spout vents displaced air and dust to a remote bag house.

The controller then releases the bag straps and deflates the spout seal, allowing the operator to tie-off the spout and remove the filled bag.

Connecting an empty bag consists of attaching the bag straps, pulling the spout over the inflatable collar, and pushing a spout inflator button.

While filled bags are being removed and empty bags attached, a subsequent batch is being conveyed to the filter receiver and weighed, ready for another fill cycle.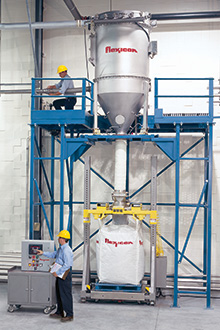 Click to enlarge
A PNEUMATI-CON® pneumatic conveying system weighs material and discharges it into a TWIN-CENTERPOST™ bulk bag filler at high rates, dust-free.
Z-0896