CONFIGURATIONS
Sanitary Bulk Bag Conditioner
This Sanitary Bulk Bag Conditioner loosens bulk solid material that has solidified during storage and shipment, allowing bulk bag unloaders to discharge it through bag spouts.

The stainless steel conditioner features two hydraulic rams with specially contoured end plates that press opposite sides of bulk bags.

An optional hydraulically-actuated, variable-height turntable allows conditioning of the bag at all heights on all sides. The number and pressure of hydraulic ram actuations, the height of the turntable, and the degree of rotation are user adjustable.

The sanitary model is intended for bulk bags containing solidified bulk food and other contamination-sensitive products that cannot be loosened using pneumatically-actuated flow promotion devices integral to bulk bag dischargers. Carbon steel models with durable industrial coatings are offered for general industrial applications.

The unit measures 87" (2210 mm) H X 133" (3378 mm) W X 78" (1981 mm) D, and accommodates bulk bags of all popular sizes. It is fully enclosed on all four sides for operator safety and includes full-height doors that are interlocked to disallow operation of the system when the doors are open.

The system controller and hydraulic pump can be mounted remotely or on the exterior of the safety cage, and requires only an electrical power connection for operation.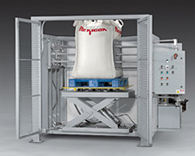 Click to enlarge
Stainless Steel Bulk Bag Conditioner with programmable scissor lift and automated turntable raises, lowers and rotates the bag in any degree for complete conditioning on all sides at all heights.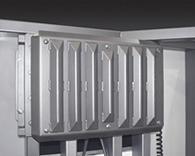 Click to enlarge
Conditioning plates are offered in standard and custom profiles matched to specific materials and bag designs.
X-0530