CONFIGURATIONS
Low Profile Flexible Screw Weigh Batching System
Low profile flexible screw conveyors (also known as a helix conveyors, screw conveyors, spiral conveyors or auger conveyors) allow weigh batching at mezzanine level and in other low-headroom areas


Flexicon's Low Profile Weigh Batching System designed for mezzanines and other low headroom areas utilizes Low Profile Flexible Screw Conveyors configured with motor drives at the inlet end of the conveyor, significantly reducing height and width requirements at the discharge end.

This automated system is comprised of eight low profile conveyors fed by roof-mounted storage vessels, with each group of four conveyors feeding either of two gain-in-weight hoppers that gravity discharge through the mezzanine floor to a ribbon blender at ground level.

A system controller starts and stops each conveyor to weigh ingredients in sequence, first at high feed rate for rapid filling, then at dribble feed rate, stopping material flow once the accurate batch weight has been gained by the hopper. System software automatically compensates for material-in-flight by stopping the conveyor in advance of attaining final batch weights.

The controller then opens the slide gate valve of the weigh hopper in use, discharging the batch into the ribbon blender, then closes the valve allowing concurrent weighing of a subsequent batch, reducing cycle time by half.

The enclosed, dust-free conveyors can handle products ranging from sub-micron powders to large pellets, including those that pack, cake, plug, seize, smear or fluidize, with no separation of blended products.

The only moving part contacting material is a flexible inner screw that maximizes reliability while reducing maintenance. The removable screw and tube interior are smooth and crevice-free, allowing rapid, thorough cleaning.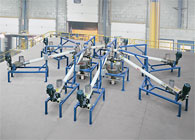 Click to enlarge
Automated low profile weigh batching system is comprised of eight low profile flexible screw conveyors fed by roof-mounted storage vessels, with each group of four conveyors feeding either of two gain-in-weight hoppers
R-0311