CONFIGURATIONS
Bulk Bag Weigh Batch System with Pneumatic and Flexible Screw Conveyors
Feeds ingredients to a central weigh hopper mechanically, and transports weighed batches pneumatically


This automated Bulk Bag Weigh Batching System from Flexicon feeds ingredients to a central weigh hopper at mezzanine level using four flexible screw conveyors (also known as a helix conveyors, screw conveyors, spiral conveyors or auger conveyors), and transports pre-weighed batches to a downstream blender using a pneumatic conveying system.

The BFC Series bulk bag dischargers feature a cantilevered I-beam with electric hoist and trolley to raise and position bulk bags without the use of a forklift. The units are equipped with FLOW-FLEXER® bag activators that raise and lower opposite bottom edges of the bag at timed intervals, loosening compacted materials and promoting material flow into the discharge spout. As the bag lightens, the stroke of the bag activators increases, raising the bottom of the bag into a steep "V" shape, promoting total evacuation of material from the bag with no manual intervention.

Each discharger is equipped with a surge hopper discharging into an enclosed Flexicon flexible screw conveyor. A system controller starts and stops each conveyor to weigh ingredients in sequence, first at high feed rate for rapid filling, then at dribble feed rate, stopping material flow once the accurate batch weight has been discharged. System software allows mid-batch bag changes and automatically compensates for material-in-flight by stopping the conveyor in advance of attaining final batch weights.

The controller then activates a rotary airlock valve to discharge the pre-weighed batch into a pneumatic conveyor line terminating at a Flexicon filter receiver positioned above a ribbon blender (not shown).

System components are available constructed of carbon steel with durable industrial finish, or stainless steel finished to industrial, food, dairy or pharmaceutical standards.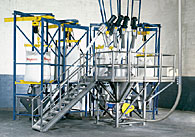 Click to enlarge
Feeds and weighs ingredients, and transports pre-weighed batches
Q-0893