CONFIGURATIONS
Open Chute Drum Dumper
Flexicon's Open Chute Drum Dumper offers a low cost method of discharging bulk solid materials from drums when dust generation is not a concern. The drum is raised by a single hydraulic cylinder until material discharges from the drum, onto the chute, and into a receiving vessel. The smooth, wide-diameter product chute allows unobstructed discharge of free-flowing materials as well as non-free-flowing products containing large agglomerates.

The unit accommodates drums of all popular sizes and can discharge directly into process equipment or optional hoppers equipped with pick-up adapters for Flexicon pneumatic conveying systems (shown) or transition adapters for Flexicon flexible screw conveyors, or with universal flanged outlets.

It is fully accessible and free of crevices for rapid, thorough cleaning, and available in carbon steel with durable industrial finishes, or in stainless steel with material contact surfaces finished to industrial, food or pharmaceutical standards.

Flexicon also produces TIP-TITE™ drum dumpers for applications requiring total dust containment.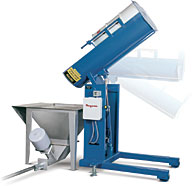 Click to enlarge
Open Chute Drum Dumper accommodates drums of all popular sizes.
Q-0891