CONFIGURATIONS
Weigh Batching/Blending System with Flexible Screw Conveyor
Sources, weigh-batches and blends bulk materials, and conveys blended batches for downstream processing or storage


This self-contained, gain-in-weight batching and blending system from Flexicon receives bulk ingredients from multiple upstream sources, and weigh-batches, blends and discharges the material into a surge hopper for subsequent conveying or gravity discharging into downstream process equipment or storage vessels.

The automated unit can be integrated with new or existing processes and conveyor systems, or supplied with Flexicon's own flexible screw conveyors (also known as a helix conveyors, screw conveyors, spiral conveyors or auger conveyors) to transport materials from any upstream source to any downstream destination.

A system controller starts and stops each conveyor (and/or opens/closes each flow control valve in the case of gravity-discharging from overhead vessels) to weigh batch each ingredient in sequence, first at high feed rate for rapid filling, then at dribble feed rate immediately prior to stopping material flow once the accurate batch weight has been discharged. System software automatically compensates for material-in-flight by stopping material discharge in advance of attaining final batch weights.

Once all ingredients have been weigh batched, the controller opens a gate valve to discharge the batch into a blender, then closes the valve, facilitating concurrent weighing of a subsequent batch and blending of the discharged batch. At the completion of each cycle, the blender discharge valve is opened to fill a surge hopper, then closed to accept another weighed batch for blending.

The controller is offered with a touch screen that displays images of system components in operation, indicating material fill levels of the weigh hopper, blender and surge hopper, as well as upstream and downstream vessels, in real time.

The optional Flexicon flexible screw conveyor shown, elevates and feeds a full range of free- and non-free-flowing materials — from products that pack, cake, bridge or smear to those that fluidize or separate — with the consistency and capacity needed for rapid batching cycles, as well as the steady dribble-feed rates required for accurate weighments.

The system is also available with a Flexicon dilute-phase pneumatic conveying system integrated with upstream and downstream processing equipment and storage vessels.

The weigh batching and blending system is offered in carbon steel with durable industrial coatings, or stainless steel finished to industrial, food, dairy or pharmaceutical standards.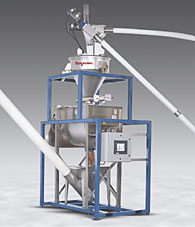 Click to enlarge
Automated system can be integrated with new/existing processes, conveyor systems
N-0965