CONFIGURATIONS
Gain-In-Weight Batching/Blending System with Bulk Bag Unloaders and Flexible Screw Conveyors
Sources material from bulk bags, weigh batches and blends the material, and discharges it into shipping containers


This automated gain-in-weight batching and blending system from Flexicon is configured to source material from bulk bags, weigh batch and blend the material, and fill drums for shipping of the blended product. The system offers consistent accuracy at high speeds when handling both free-flowing and non-free-flowing ingredients.

The system employs four Flexicon bulk bag unloaders equipped with Flexicon flexible screw conveyors (also known as a helix conveyors, screw conveyors, spiral conveyors or auger conveyors) that convey material to a central weigh hopper that is mounted on load cells.

When the batch sequence is initiated, a programmable controller activates each conveyor, in sequence, to load an ingredient into the hopper at maximum feed rate, then at dribble feed rate immediately prior to stopping the conveyor once the target batch weight has been reached.

The controller also compensates for material in flight by stopping the conveyor before the target weight is reached.

The system handles a diversity of free- and non-free-flowing materials — from products that pack, cake, bridge, smear, or fluidize to those that separate — at the high rates required for fast batching cycles, as well as the steady dribble feed rates needed for highly accurate weighments.

The bulk bag unloaders employ FLOW-FLEXER® bag activators to promote complete, automatic discharge of materials from the bag, while the flexible screw conveyors are capable of feeding problematic materials into the system's weigh hopper.

Weighed batches are automatically discharged through a slide gate valve into a ribbon blender, and in turn, into storage containers. Also offered is a flexible screw conveyor or a pneumatic conveying system for transporting weighed, blended batches to any nearby or distant plant location.

The system is offered in carbon steel with durable industrial finish, or stainless steel designed, constructed and finished to industrial, food, dairy or pharmaceutical standards.

In addition to sourcing material from bulk bags, Flexicon gain-in-weight batching and blending systems can convey material from silos, manual dumping stations or other process equipment, weigh batch and blend a multitude of ingredients, and deliver the recipe to blenders, process vessels, packaging lines, or any other destination.

Flexicon also offers bulk bag loss-of-weight batching systems comprised of individual or multiple bulk bag unloaders mounted on load cells, which measure weight loss of the entire unit.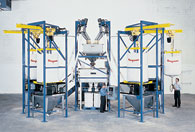 Click to enlarge
Automated system is comprised of four bulk bag unloaders equipped with flexible screw conveyors, a central gain-in-weight hopper and a ribbon blender that discharges into shipping containers.
L-0953