CONFIGURATIONS
Pail Dumper for Dense Bulk Materials
This new TIP-TITE® Pail Dumper from Flexicon dumps pails containing high density bulk solid materials into downstream processing or storage vessels dust-free.

The unit accommodates pails of up to 5 gallons (19 litres) measuring up to 15 in. (380 mm) in height, and weighing up to 750 lb (340 kg).

Intended for powder metals, chemicals, pigments, minerals or other heavy, dense bulk solids, the unit features dual hydraulic cylinders that work in tandem to raise and seat the pail rim against a specially-configured, elongated discharge cone, and then tip the pail to an angle of 45, 60 or 90 degrees with a motion-dampening feature. At full rotation, the discharge cone seals against the inlet of the receiving vessel, creating a dust-tight connection and allowing controlled, dust-free discharge through a pneumatically-actuated slide gate valve.

An optional pneumatically-actuated vibrator on the discharge cone promotes complete evacuation of non-free-flowing materials.

The pail dumper is constructed of carbon steel with durable industrial finishes, with material contact surfaces of stainless steel. Other models are available in all-stainless steel finished to food, dairy, pharmaceutical or industrial standards.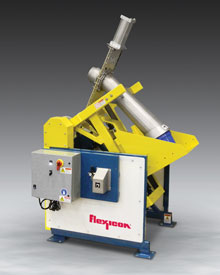 Click to enlarge
Flexicon's TIP-TITE® Pail Dumper handles pails containing up to 750 lb (340 kg) of high density bulk materials.
GG-0699