CONFIGURATIONS
Drum Dumper with Integral Flexible Screw Conveyor
This TIP-TITE® Drum Dumper with integral flexible screw conveyor allows volumetric feeding of bulk material from drums into downstream processes free of dust.

A hydraulic cylinder raises and seats the drum rim against a discharge cone, after which a second hydraulic cylinder tips the drum to an angle of 45, 60 or 90 degrees with a motion-dampening feature. At full rotation, a pneumatically-actuated slide gate valve opens and charges the conveyor, which meters the material volumetrically according to infinitely adjustable user controls.

As the flexible screw rotates, it self-centers within the tube, providing ample clearance between the screw and the tube wall to eliminate or minimize grinding. The flexible screw is top-driven beyond the point at which the material exits the conveyor, preventing contact with bearings or seals.

The conveyor transports bulk materials from sub-micron powders to large pellets, while the gentle rolling action of material prevents the separation of blends.

The rugged inner screw is the only moving part contacting material, resulting in reduced maintenance and increased reliability. A broad range of screws with specialized geometries is available to handle free- and non-free-flowing materials, including products that pack, cake or smear in other types of conveyors.

The unit accommodates drums from 30 to 55 gal (115 to 200 litres) weighing up to 750 lb (340 kg) and measuring 36 to 48 in. (915 to 1220 mm) in height.

An optional pneumatically-actuated vibrator on the discharge cone promotes complete evacuation of non-free-flowing materials.

The drum dumper is available constructed of carbon steel with durable industrial finishes, with material contact surfaces of stainless steel, or in all-stainless steel finished to food, dairy, pharmaceutical or industrial standards.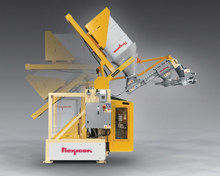 Click to enlarge
Flexicon's new TIP-TITE® Drum Dumper feeds material directly into downstream processes volumetrically with no dusting.
FF-1105