CONFIGURATIONS
Explosion-Proof Bag Dump Station with Glove Box, Compactor, Conveyor
This Flexicon Bag Dump Station with NEMA 7/9 explosion-proof electrical system contains dust emitted from manual dumping activities, compacts empty bags and conveys the material to an elevated destination.

Bags are staged on the bag tray and transferred through a plastic strip curtain into a hooded glove box and onto a grate, which supports the bag and prevents unintended operator contact with moving parts.

The hood is equipped with a polycarbonate skylight that illuminates the interior of the enclosure for improved bag slitting, dumping and disposal.

A bag infeed chute through the sidewall of the glove box permits the operator to pass empty bags directly into an integral bag compactor, causing dust generated from compaction as well as dumping activities to be drawn onto the system's two filter cartridges.

The automatic reverse-pulse filter cleaning system employs timer-activated solenoid valves to release short blasts of compressed plant air inside the cartridges, causing dust build-up on the outer filter surfaces to fall into the hopper, conserving useable product. Filters are readily accessed by removing the interior baffle, and replaced rapidly using quick-disconnect fittings.

The compactor employs a pneumatic air cylinder that compresses bags into a removable polybag-lined bin that accommodates 50 to 80 bags. The main waste access door and a flapper door within the bag infeed chute are safety interlocked to prevent operation of the compactor unless both doors are closed.

The hopper discharges into an enclosed Flexicon flexible screw conveyor for dust-free transfer of free- and non-free-flowing materials to an elevated destination with no separation of blended products.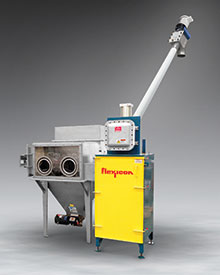 Click to enlarge
Dust generated from bag slitting, dumping and compaction is isolated from the operator and plant environment by means of a glove box enclosure with strip curtain and an integral bag compactor with sealed infeed chute, all maintained under negative pressure by a rear-mounted dust collector. An enclosed Flexicon flexible screw conveyor elevates material dust-free.
FF-0602