CONFIGURATIONS
Low-Profile Bulk Bag Discharger Fits Existing Layouts
This series of BULK-OUT® Half-Frame Bulk Bag Dischargers features low-cost frames of variable heights and offsets to fit restricted areas previously utilized for dumping of smaller containers such as sacks, pails drums, boxes and bins.

The low profile dischargers are engineered to straddle downstream blenders, feeders, tanks or other equipment in areas with limited headroom, restricted floor space and/or obstacles that would preclude the use of conventional discharger frames.

Lacking an upper frame, the discharger provides overhead space for suspending of bulk bags using a forklift or plant hoist. It can also be configured to support new or existing bulk bag lifting frames that can be connected to bags at floor level and then forklifted onto the half frame within inches/centimeters of the ceiling.

The bag-to-discharger interface consists of a SPOUT-LOCK® clamp ring positioned atop a pneumatically actuated TELE-TUBE® telescoping tube, allowing dust-tight connections. The telescoping tube raises the clamp ring assembly that seals the clean side of the bag spout to the clean side of the telescoping tube, and applies constant downward tension to the bag as it empties and elongates, promoting complete evacuation.

The high-integrity, dust-tight seal between bag spout and clamp ring allows full-open discharge from bag spouts of all popular diameters, eliminating the need for iris valves commonly employed to lessen dust escape inherent with bag spouts hanging loosely within intake chutes.

The discharger is also equipped with FLOW-FLEXER® bag activators that raise and lower opposite bottom edges of the bag at timed intervals, loosening compacted materials and promoting material flow through the bag discharge spout. As the bag lightens, the stroke of the bag activators increases, raising the bag into a steep "V" shape, eliminating dead spots for total evacuation of material with no manual intervention.

Product contact surfaces are of stainless steel, with frame construction of carbon steel, or stainless steel finished to industrial, food, dairy or pharmaceutical standards.

Full-frame dischargers offered by the company include BFF models with a lifting frame for forklift loading of bulk bags, and BFC models with a cantilevered I-beam and electric hoist and trolley for positioning of bags without the use of a forklift.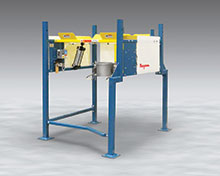 Click to enlarge
The variable height and offsets of low profile BULK-OUT® Half-Frame Dischargers allow dust-free evacuation of bulk bags in restricted spaces at low cost.
EE-0427