CONFIGURATIONS
Mobile Bulk Bag Filling System Has Metal Detection, Tilt-Down Feeder
This mobile Bulk Bag Filling System features an integral metal detector/separator and a tilt-down conveyor/feeder for dust-free filling at multiple locations.

Integral to the system is a patented TWIN-CENTERPOST™ Bulk Bag Filler that maximizes strength and improves accessibility to bag hooks while simplifying construction and reducing cost.

The system detects metal in the free-fall stream of material entering the filler and then ejects it through a chute that discharges into a removable drum at the rear of the unit.

The filler is also equipped with: fill head height adjustment to accommodate all popular bag sizes; inflatable cuff to seal the bag inlet spout; blower to remove bag creases prior to filling; load cells for filling by weight; vent port for dust-free air displacement during filling; pneumatically retractable bag hooks; and automated vibratory densification/deaeration system to maximize capacity and stabilize the bag for storage or shipment.

The first bulk bag filler to receive USDA acceptance, it is constructed of 316 stainless steel, finished to sanitary standards and configured with full-length forklifting tubes allowing it to be moved throughout the plant.

A tilt-down flexible screw conveyor (also known as a helix conveyor, screw conveyor, spiral conveyor or auger conveyor) on a caster-mounted frame, which mates with the bulk bag filler's base frame, can be maneuvered through narrow aisles and around corners. With the hopper, support boom and conveyor assembly tilted down, the unit fits through standard doorways and orients the conveyor tube horizontally, allowing the flexible screw to be removed easily for thorough cleaning and inspection.

The conveyor's inlet hopper includes an air displacement vent with cartridge filter that is equipped with a reverse pulse cleaning system that dislodges accumulated dust with short bursts of compressed air, returning the dust to the hopper on a timed cycle, maintaining operating efficiency.

Once the operator connects an empty bag and presses "start," weigh-filling functions are automatic. The controller runs the conveyor at high speed, and steps it down to dribble feed rate immediately prior to stopping it once the accurate fill weight is gained, and releasing the bag straps.

The programmable controls are housed in a stainless steel NEMA 4X enclosure with touch screen that graphically displays filling functions.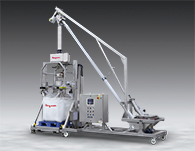 Click to enlarge
Mobile, Sanitary Bulk Bag Filling System from Flexicon is comprised of a TWIN-CENTERPOST™ Bulk Bag Filler with metal detection/removal, and a Tilt Down Flexible Screw Conveyor with clog-free dust-containment system. Programmable controls automate all filling and conveying functions.
AA-0985