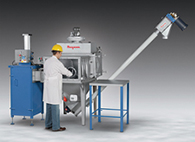 Click to enlarge
Dust generated from bag opening, dumping and compaction is isolated from the operator and plant environment by means of a glove box, dust collector and integral bag compactor with sealed infeed chute. An enclosed Flexicon flexible screw conveyor transfers material downstream at any angle, dust-free.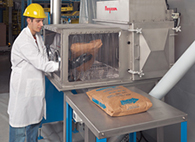 Click to enlarge
The operator is isolated from dust by means of a dumping hood comprised of a plastic strip curtain, glove box, empty-bag infeed chute, and dust collector atop a receiving hopper feeding an enclosed flexible screw conveyor.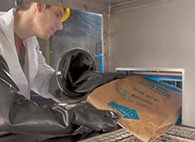 Click to enlarge
An operator transfers empty bags from the glove box side of the enclosure through a bag infeed chute in the enclosure sidewall, drawing dust generated from bag compaction as well as dumping activities into the integral dust collection system.