NEWS RELEASES
Low Profile Bulk Bag Filler Allows Bag Removal with Pallet Jack
BETHLEHEM, PA — A new Low Profile
Bulk Bag Filler
introduced by Flexicon Corporation allows removal of loaded bags using a pallet jack, eliminating the need for a forklift, according to sales manager David Boger.
The patented TWIN-CENTERPOSTTM design maximizes strength and improves accessibility to bag hooks while simplifying construction and reducing cost.
Standard units for low cost, low volume filling applications are offered with primary bag filling components: manual
fill head height adjustment to accommodate all popular bag sizes; pneumatically retractable bag hooks; inflatable cuff to seal the bag inlet spout; and double wall product inlet port with air displacement outlet port for dust-free filling.
Performance can be enhanced by adding a scale system, powered fill head height adjustment, and blower assembly for inflating the bag prior to filling.
The unit is also offered with the company's own flexible screw conveyor systems integrated with the user's
upstream process or other material source. The conveyor delivers a full range of free- and non-free-flowing materials, with no separation of blended products, at the high feed rates needed for rapid filling cycles, and steady dribble-feed rates for accurate weighments.
An adjustable fill head accommodates bags from 36 to 72 in. (915 to 1820mm) in height. Frame construction is of carbon steel with durable industrial finish, or stainless steel finished to industrial, food, dairy or pharmaceutical standards.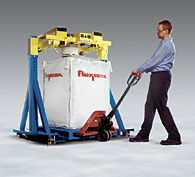 Click to enlarge