FLEXI-DISC® Tubular Cable Conveyors
System Layouts and Integrated Systems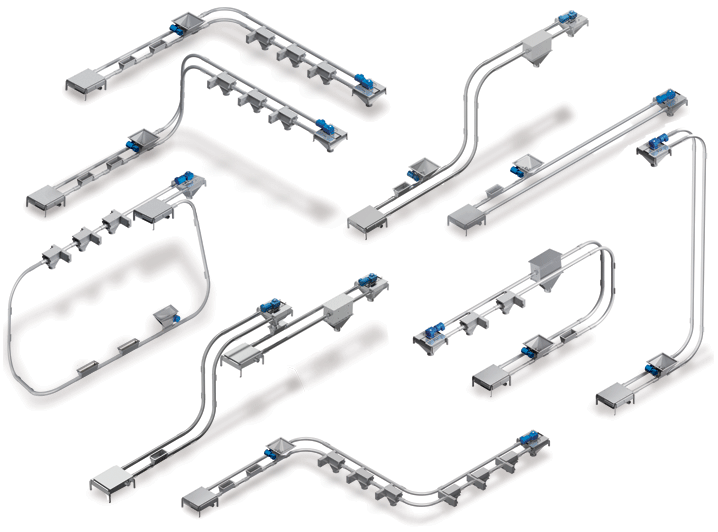 Stand-alone and self-contained systems
FLEXI-DISC conveyors can be routed vertically, horizontally or at any angle, through small holes in walls or ceilings. Conveyor configurations range from basic systems with one material inlet and one discharge, to systems routed in several directions over hundreds of feet/meters, with multiple material inlets and outlets as shown in the above examples.
These systems can source material from multiple plant locations, and deliver it selectively to storage vessels, packaging machines and/or downstream process equipment.
In addition to stand-alone systems, all FLEXI-DISC conveyors are available integrated with new or existing upstream and/or downstream equipment from Flexicon and others, including but not limited to: Inlet Hoppers, Bulk Bag
Dischargers, Drum Dumpers, Box/Container Dumpers, Bag Dump Stations, Bulk Bag Fillers, Screeners, Blenders, Magnetic Separators, Packaging Machines, Feeders, Dryers/Coolers, Crushers/Grinders, Storage Vessels and other process equipment—all engineered, automated and guaranteed to perform by Flexicon.


Total systems integration
In addition to stand-alone and self-contained FLEXI-DISC conveyor systems described above, Flexicon offers plant-wide bulk handling systems that can integrate and automate your facility's entire bulk handling and processing system, or any portion thereof—without the high cost, complexity or risk associated with large scale projects. Flexicon can assume single-source responsibility for engineering, integrating, automating and supporting your project, and guarantee

its performance, alleviating you of the burden and risk of designing your system, coordinating multiple suppliers, integrating components, trouble-shooting start-up and assuming responsibility for system performance.

Flexicon can draw from its own extensive range of equipment, as well as the equipment of other manufacturers, assuring you of the optimum solution to your bulk handling and processing problem. From evaluating your material in state-of-the-art test laboratories and supplying your system on time, to assisting with installation and servicing on-site, no other manufacturer is more devoted to your company's success—and to yours—as Flexicon.