FLEXI-DISC® Tubular Cable Conveyors
Cable, Discs and Tubing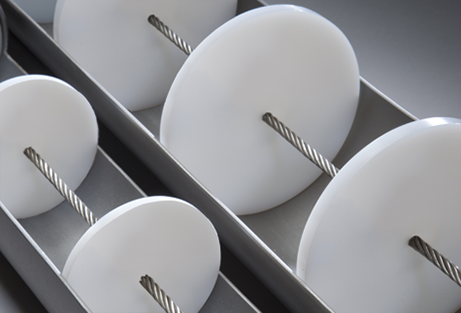 Tight tolerance, high-strength discs of engineered polymers in 4 and 6 in. (100 and 150 mm) diameters available on 304 and 316 stainless steel cable, including polymer-coated.
The FLEXI-DISC® Cable-Disc Assembly is highly engineered and thoroughly proven to simultaneously deliver unsurpassed efficiency, extreme durability and ultra-gentle product handling.

Discs are available in a range of designs and high-strength engineered polymers to suit a broad variety of materials. The discs are designed for smooth passage through bends in the tubing circuit, and with clearances to the tube wall designed to eliminate or minimize product degradation. Low friction surfaces allow the discs to glide
efficiently within the smooth stainless steel tubing, while minimizing product hang-up and allowing easy cleaning.
The FLEXI-DISC Cable is offered in stainless steel, and is available polymer-coated.
FLEXI-DISC Straight Tubing, Elbows and Couplings are offered in 304 or 316 stainless steel finished to industrial or sanitary standards.
Clear Inspection Tubing can be located in any straight run of tubing to visually monitor conveyor performance.
Sanitary Systems
FLEXI-DISC Conveyors are fully enclosed, preventing contamination of the product and plant environment. At the end of a conveying cycle, the discs evacuate the conveyor tubing of material, virtually eliminating wasted product and facilitating rapid, thorough sanitizing.
Sanitary specifications include polymer-coated or uncoated 304 or 316 stainless steel cable.
All tubing, material inlets, material outlets and ancillary metallic components are of 304 or 316 stainless steel with continuous welds ground and polished to food, pharmaceutical or industrial standards.
Wet or dry cleaning accessories can be quickly attached to the FLEXI-DISC cable to minimize downtime between changeovers, while Clean-In-Place (CIP) accessories allow rapid, automated and thorough sanitizing of the system.