PNEUMATIC CONVEYORS
A complete range of pneumatic system components
Flexicon provides any and all components necessary to configure your PNEUMATI-CON system including:
Flex-tube diverters, wye-diverters, plug diverters and other line diverter configurations
Rotary airlock valves in all popular designs and sizes
Filter receivers for low- to high-capacity applications
Cyclone separators for low- to high-capacity applications
Gain-in-weight and loss-of-weight batching systems
Dust collectors and bin vents
Controls and electrical equipment
Hand-held pick-up wands
Silos, day bins and other storage vessels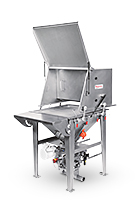 Click to enlarge
Flexicon's Sanitary Bag Dump Station collects dust created during manual dumping of bulk materials from bags, boxes, drums and other containers, and allows rapid, tool-free wash down. Optional rocker arms support the hood assembly above the hopper rim, eliminating the need for operators to lift and remove the hood during cleaning and inspection. Shown with quick-clean rotary airlock.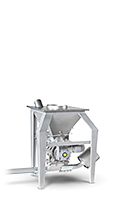 Click to enlarge
Sanitary stainless steel inlet hopper is gravity-fed from upstream process equipment or storage vessels. A sanitary stainless steel rotary airlock valve at the hopper discharge is equipped with integral support rails that allow the rotor assembly to separate from the valve body for sanitizing of all material contact surfaces, and to close securely in seconds — tool-free.

Click to enlarge
Flexicon storage vessels in carbon steel with durable coatings (shown) and in stainless steel are available equipped with flow promotion devices and rotary airlock valves for consistent metering of bulk material into positive pressure or vacuum pneumatic conveyor lines. With optional load cells and programmable controls, vessels can serve as loss-of-weight batching systems.

Click to enlarge
PNEUMATI-CON filter receivers incorporate numerous design and construction innovations offering unsurpassed separation efficiency across all capacity ranges. Low-capacity units are commonly positioned above packaging lines or smaller process equipment, while medium capacity units are utilized above storage vessels and process equipment such as blenders and bulk bag fillers.

Click to enlarge
This Silo Vent is essentially the upper section of a filter receiver that can be mounted atop an existing silo or other large vessel, into which material can be conveyed.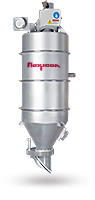 Click to enlarge
This modular vacuum receiver features a rugged clamp-together design that facilitates rapid disassembly for filter maintenance and cleaning. Whereas conventional filter receivers employ multiple smaller elements, it employs a single, large diameter filter cartridge, and offers an ideal solution for low-throughput-rate, short-distance pneumatic conveying applications.


Click to enlarge
Unlike filter receivers, cyclone separators require no filters to separate solid particles from the gas stream, instead relying on cyclonic action alone. An air stream containing material enters the separator at a tangential angle and is spun rapidly, creating a circular flow that imparts centrifugal force to the particles which strike the wall of the cyclone and fall through a bottom outlet, into a process vessel.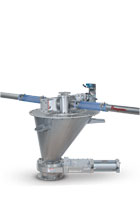 Click to enlarge
PNEUMATI-CON® Fill/pass valves allow material to be discharged at single or multiple points along a common vacuum or positive-pressure dilute-phase conveying line. The valves can be actuated to divert material from the conveying line manually from a control panel, on timed cycles or — when equipped with a gain-in-weight hopper (shown) — by weight of material discharged.