FLEXIBLE SCREW CONVEYORS
Configurations
Sanitary Mobile Flexible Screw Conveyor
Transports bulk food, dairy, pharmaceutical and other contamination-sensitive materials


This Mobile Flexible Screw Conveyor (also known as a helix conveyor, screw conveyor, spiral conveyor or auger conveyor) consists of an 8 cubic foot (226 liter) hopper feeding a 3.5 inch (90mm) diameter flexible screw conveyor supported by a tubular frame on casters. Designed, constructed and finished to 3A Dairy Accepted standards, the conveyor transports bulk ingredients ranging from sub-micron powders to large pellets.

The enclosed conveyor tube prevents product and plant contamination, while the gentle rolling action of the inner spiral prevents the separation of blends. The rugged inner screw is the only moving part contacting material, resulting in reduced maintenance and increased reliability.

A broad range of flexible screws is available to handle free- and non-free-flowing bulk materials, including products that pack, cake, smear, seize, plug or fluidize, and blends that separate.

The mobile conveyor is constructed of sanitary stainless steel with ground and polished welds and can be disassembled quickly for thorough cleaning.

Stationary units are also available, as well as larger units for high capacity applications.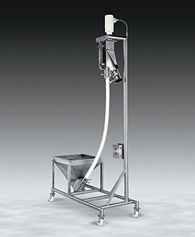 Click to enlarge
Broad conveying abilities together with in-plant mobility enable this system to handle diversified tasks, saving the cost of purchasing multiple conveyors.
J-0204