FLEXIBLE SCREW CONVEYORS
Cleanliness
Enclosed tube prevents contamination
A Flexicon flexible screw conveyor (also known as helix conveyor, screw conveyor, spiral conveyor and auger conveyor) is totally enclosed, dust-free, and mess-free, preventing contamination of your bulk products and plant environment, while preserving the moisture and temperature levels of materials being conveyed.
Compare the smooth interior surfaces of a Flexicon flexible screw conveyor with potential contamination sources found in other conveyors, and you may specify the Flexicon flexible screw conveyor on the basis of product purity alone.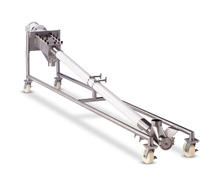 Sanitary low incline Flexible Screw Conveyor meets 3-A Dairy standards.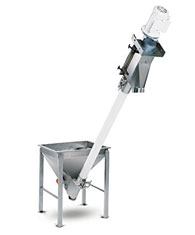 Fast, thorough cleaning
A Flexicon flexible screw conveyor has no internal cracks, crevices or bearings that can trap particles or prevent thorough cleaning. Simply remove the clean-out cap and reverse rotation to evacuate any residual material prior to flushing with air, water, steam, or cleaning solution. The screw and tube can be removed quickly for easy and thorough cleaning.
Design, construction and finishes satisfy cleanliness standards
Flexicon conveyors, as well as most other Flexicon equipment, are available in carbon steel with a variety of durable industrial finishes, or stainless steel finished to industrial, food, dairy, or pharmaceutical standards, including designed and constructed for 3-A compliance.