CONFIGURATIONS
Hoistable Bulk Bag Unloader
Allows relocating of the frame and changing of bags by one operator using only an overhead hoist


Flexicon's Hoistable Bulk Bag Unloader allows relocating of the frame and changing of bags by one operator using only an overhead hoist.

An unloader lifting frame allows the entire unit, with or without bulk bag in place, to be hoisted from a single lift point by plant cranes having 5000 lb (2270 kg) capacity. Once the discharger is lowered, bulk bags are replaced by means of a bulk bag lifting frame with self-centering receiver that mates to a lifting-disc/eye-bolt for rapid, single-point hoisting of bulk bags into and out of the frame by one operator, hands free.

The frame can be hoisted onto platform scales for loss-of-weight batching, or supplied as a self-contained loss-of-weight batching system with integral load cells and programmable controls.

The bag-to-hopper interface consists of a manual SPOUT-LOCK® clamp ring positioned atop a pneumatically actuated, 18 in. (450mm) diameter TELE-TUBE® telescoping tube, allowing dust-tight connections and unrestricted flow between the bag spout and hopper, as well as automatic tensioning of the bag as it empties to promote flow and evacuation.

The high-integrity, dust-tight seal between bag spout and clamp ring allows full-open discharge from bag spouts of all popular diameters.

A 24 in. (610mm) diameter POWER-CINCHER® pneumatically actuated flow control valve allows full-open discharge from bags having wide diameter spouts, and retying of partially empty bags. The device employs a series of curved, articulated stainless steel rods to cinch the spout concentrically on a horizontal axis for easy tie offs, and vertically in a tight zigzag pattern to prevent leakage of fine powders.

The discharger is also equipped with FLOW-FLEXER® bag activators that raise and lower opposite bottom edges of the bag at timed intervals, loosening compacted materials and promoting material flow into the bag discharge spout. As the bag lightens, the stroke of the bag activators increases, raising the bag into a steep "V" shape, eliminating dead spots for total evacuation of material with no manual intervention.

Also available is a BAG-VAC® dust collector integral to the dust-tight system that creates negative pressure to collapse empty bags prior to retying and disconnection, eliminating dust emitted during manual flattening of empty bags.

Telescoping bag height posts adjust to accommodate bags from 36 to 84 in. (915-2130mm) in height. Frame construction is of carbon steel with durable industrial finish, or stainless steel finished to industrial, food, dairy or pharmaceutical standards.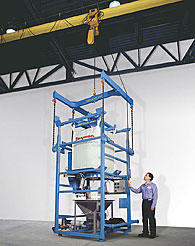 Click to enlarge
High-integrity seal between bag spout and clamp ring allows dust-free operation