BULK BAG FILLERS
Your bulk bag filler is only as reliable
as your material delivery system
Only half of your bulk bag filling depends on holding, inflating, densifying, and weighing your bulk bags correctly. The other half depends on delivering material to your filler with extreme dependability and consistency. Whether your products are free- or non-free- flowing — or prone

to pack, cake, plug, fluidize or separate — your system must deliver them at high rates for rapid filling, as well as steady dribble-feed rates for highly accurate weighments. Flexicon offers everything you need for complete bag filling success: an economical base unit with
comprehensive options to meet your precise requirements at low cost; and a custom engineered material delivery system integrated with your new or existing process equipment or other material source.
CHOOSE FROM THREE MATERIAL DELIVERY SYSTEMS
Flexicon will custom engineer an automated delivery system according to your specific bulk material and process requirements. Whether your system must integrate with new or existing upstream equipment, elevate non-free-flowing materials, or prevent the surging of free-flowing materials from elevated storage vessels, Flexicon can provide the ideal system to feed your filler: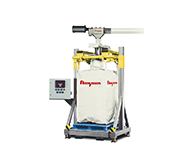 Bulk bag filler fed by FLEXICON® Flexible Screw Conveyor
Controls and weighing systems
Conveyor and feeder inlet adapters to interface with material sources
Surge bins and other storage vessels for overhead material delivery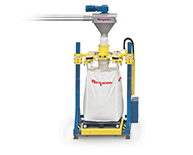 Bulk bag filler fed by FLEXI-DISC® Tubular Cable Conveyor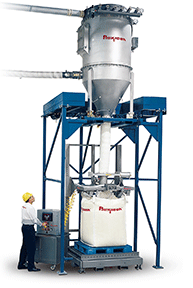 Bulk bag filler fed by PNEUMATI-CON® Pneumatic Conveying Systems
CHOOSE FROM THREE WEIGHING METHODS FOR LOW- TO HIGH-CAPACITY APPLICATIONS
LOW CAPACITY: PLANT SCALE
TWIN-CENTERPOST™ Bulk Bag Fillers can be forklifted onto an all-purpose plant scale, eliminating the cost of load cells and controls.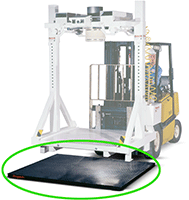 LOW TO MEDIUM/HIGH CAPACITY: FILLER ON LOAD CELLS
All Flexicon Bulk Bag Fillers are available mounted on load cells that transmit weight-gain signals to a controller which slows and then stops an optional conveyor (or rotary valve) once an accurate fill weight is reached. (Flexicon® Flexible Screw Conveyor shown. FLEXI-DISC® Tubular Cable Conveyor and PNEUMATI-CON® Pneumatic Conveying Systems also available.)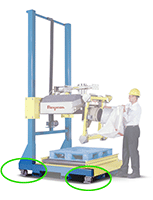 MEDIUM TO HIGH CAPACITY: WEIGH HOPPER ABOVE FILLER
Weigh hoppers suspended above the bulk bag filler allow simultaneous recharging of the hopper and replacement of the bulk bag for filling rates up to 20 per hour.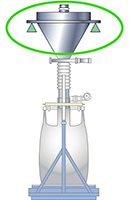 *Patent(s) granted and/or pending.