BULK BAG FILLERS
Standard features include:
Rugged TWIN-CENTERPOST™, REAR-POST, SWING-DOWN® or BASIC FILLER configuration
Forklift fill head height adjustment to accommodate all popular bag sizes
Inflatable collar to hold and seal the bag inlet spout
Pneumatically retractable bag strap hooks for quick, positive strap release (optional on Basic Filler)
Vent port for air displacement and dust control
Optional features include:
Accurate weigh scale system with automated control
Automated vibratory densification/ deaeration system to stabilize the bag
Inflator to expand empty bag and liner, and remove creases prior to filling
Pneumatically actuated material flow control valve
Custom controls for integrated material feed system
Drum/box filling conversion kit
Powered fill head height adjustment (REAR-POST and SWING-DOWN® fillers only)
Powered or gravity roller conveyor for bulk bag staging and removal
Pallet-jack accessible base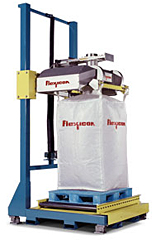 Optional bag inflator removes creases prior to filling. SWING-DOWN® filler shown. Also available on TWIN-CENTERPOST™ and REAR-POST fillers.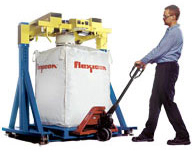 Flexicon's Low Profile Bulk Bag Filler allows removal of loaded bags using a pallet jack, eliminating the need for a forklift.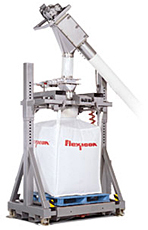 Patented TWIN-CENTERPOST™ Bulk Bag Fillers* are available in USDA Dairy Accepted construction and finish.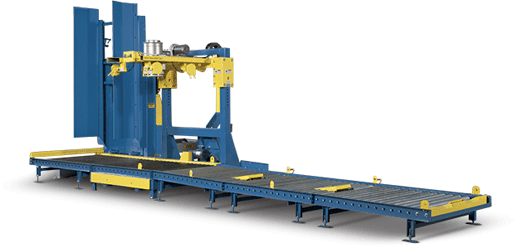 Optional powered or gravity roller conveyors allow rapid staging and removal of bulk bags.
REAR-POST filler shown. Also available on TWIN-CENTERPOST™ and SWING-DOWN® fillers.
*Patent(s) granted and/or pending.