BULK BAG FILLERS
Configurations
TWIN-CENTERPOST™ Bulk Bag Filler*

Patented design maximizes strength and improves accessibility to bag hooks while reducing cost


TWIN-CENTERPOST™ Bulk Bag Fillers* from Flexicon feature a patented frame design that maximizes strength and improves accessibility to bag hooks while simplifying construction and reducing cost. The filler is available with primary bag filling components for low cost, low volume filling, and with performance enhancements including a material delivery system for higher volume filling applications.

The filler is equipped as standard with: manual fill head height adjustment to accommodate all popular bag sizes; pneumatically retractable bag hooks; inflatable connector to seal the bag inlet spout; and feed chute outlet port for dust-free air displacement during filling.

Performance can be enhanced by adding: powered fill head height adjustment; inflator to expand the bag prior to filling; automated vibratory densification/deareation system to stabilize the bag; and powered or gravity roller conveyor.

The filler is available with a Flexicon flexible screw conveyor delivery system integrated with the user's upstream process equipment or other material source. The conveyor system delivers a full range of free- and non-free-flowing materials and blended products with the consistency and capacity needed for rapid bag filling, and the steady dribble-feed rates required for accurate weighments.

The unit is also available with a Flexicon dilute-phase pneumatic material delivery system integrated with upstream storage vessels or process equipment, terminating at a high performance Flexicon filter receiver positioned above filler.

Flexicon also offers REAR-POST bulk bag fillers for high-capacity roll-through conveying applications, and patent-pending SWING-DOWN® bulk bag fillers that lower the fill head and pivot it to the operator for connecting of empty bulk bags at floor level.

All system components are available constructed to industrial, food, dairy and pharmaceutical standards.


*Patent(s) granted and/or pending.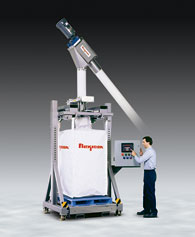 Click to enlarge
Available as basic, low-cost units or with numerous performance enhancements
M-0490