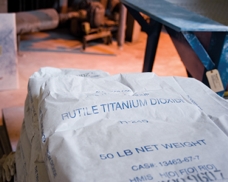 Click to enlarge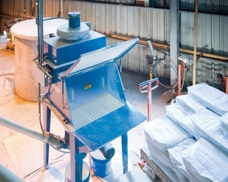 Click to enlarge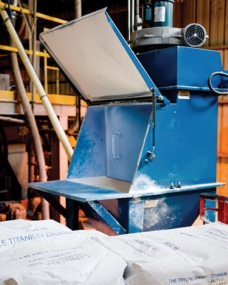 Click to enlarge
25 lb (11 kg) bags of titanium dioxide, a dusty powder, are manually emptied into the bag dump station, which includes dust collection, and a support tray for opening bags.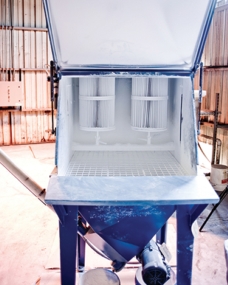 Click to enlarge
The bag dump station's support tray provides a work surface to open bags prior to dumping. A vacuum fan pulls dust onto the filter cartridges, while a pneumatic vibrator and an agitator promote flow of the difficult-to-move powder toward the flexible screw conveyor's inlet at bottom.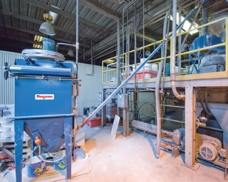 Click to enlarge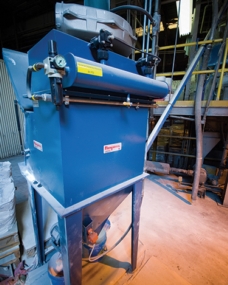 Click to enlarge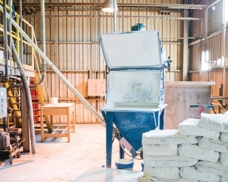 Click to enlarge
A 25 ft (7.6 m) long flexible screw conveyor transports titanium dioxide to the mixer on the mezzanine. The conveyor employs a flexible screw with specialized geometry for moving the non-free-flowing material.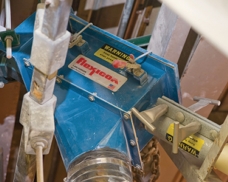 Click to enlarge
Titanium dioxide travels from the conveyor's discharge spout through a 4 ft (1.2 m) long downspout before entering the blender. A controller achieves batch weight accuracy of ±0.02 lb (±0.01 kg).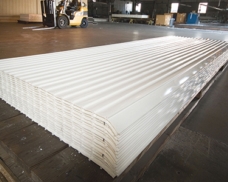 Click to enlarge
Ameron International's protective PVC lining product contains titanium dioxide to impart UV resistance and translucent white color.