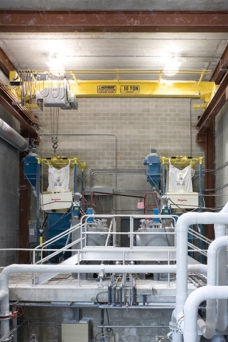 Click to enlarge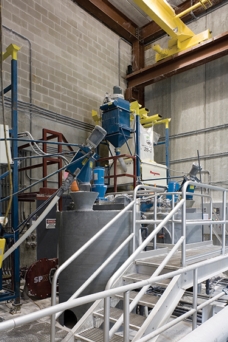 Click to enlarge
Two bulk bag unloaders unload and transfer 4000-6000 lb (1814-2722 kg) per day of diatomaceous earth (DE) for Tampa Bay desalination plant's DE filtration system. The crane deposits a lifting frame holding the bulk bag onto the unloader frame.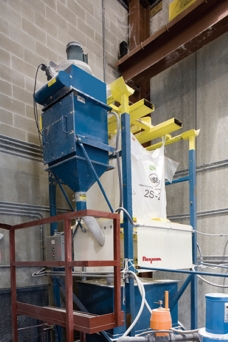 Click to enlarge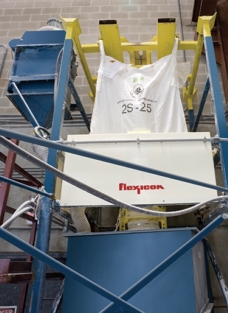 Click to enlarge
A BAG-VAC® dust collector, mounted on the bulk bag unloader frame, vacuums displaced air and dust, and collapses empty bags dust-free prior to tie-off and removal. The bulk bag is supported in a lifting frame.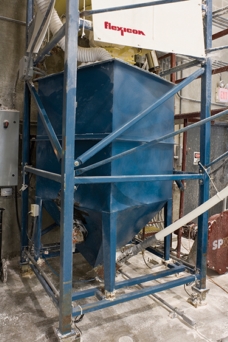 Click to enlarge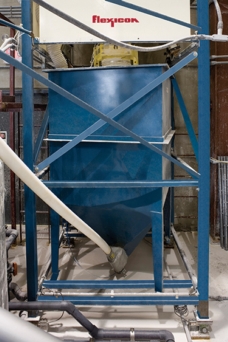 Click to enlarge
The 63 cu ft (1.8 cu m) capacity hopper holds the contents of a 900 lb (408 kg) bulk bag allowing diatomaceous earth to transfer, unattended, through the flexible screw conveyor to the tank. Load cells under the unloader frame transmit weight loss information to a PLC to achieve accurate batch weight transfer.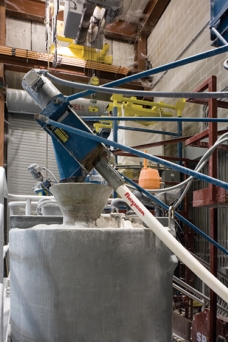 Click to enlarge
At the flexible screw conveyor's discharge end, DE flows through a transition adapter into the 300 gal (1136 l) tank where the DE is put in suspension with water.