CASE HISTORIES

Family-run seasonings company puts more spice into production
BALTIMORE, MD — Chesapeake Bay's crabs are legendary among lovers of seafood and are a popular item in seafood restaurants. For restaurant patrons who order steamed crabs or other seafood, particularly in Maryland and Virginia, the chances are high that the accompanying spices were made by J.O. Spice Company, Inc.

Established in 1945 to serve Baltimore's fish and seafood markets, J.O. Spice is still a family-owned and operated business, but has expanded far beyond its original food focus as well as geographically. The company now has some 50 standard products, plus "a few hundred" specialty products, says Don Ports, president, and grandson of J.O.'s founders (J.O. and Dorothy Strigle). Also, while seafood seasonings and batters are still the biggest sellers, the company has added seasonings for various meats, poultry and vegetables in recent years. All are distributed throughout the eastern and southern states, with about 60% being sold through restaurants and the rest through retail stores.

To meet the increasing demand, J.O. Spice has installed new packaging and mixing equipment and reorganized its production operations, effectively quadrupling the capacity. "Our business has been growing by about 25% a year for the past five years," says Ports, "and we were having trouble keeping up with the demand."

Prior to the changeover, in mid-2006, the company was using three paddle mixers to mix the ingredients for its seasonings. The mixed batches were emptied into 1,500 lb (680 kg) bulk bags. When a bag was full, it was raised aloft by a hoist then discharged manually into 50 lb (22.7 kg) or 75 lb (34 kg) boxes, or 125 lb (56.7 kg) drums.

In the new arrangement, the bags are loaded into a bulk bag discharger made by Flexicon Corp. (Bethlehem, PA) and fed to two semi-automated packaging lines. To match the throughput of this system, J.O. Spice added a 150 ft3 (4.25 m3) capacity paddle mixer. The company still uses two of the old paddle mixers for retail products, which are sold in 1 and 2 lb (454 and 907 g) bottles.

A typical batch consists of 10 to 12 ingredients (including liquid additions), depending on the product. The ingredients, mostly spices and salt, are received in 50 lb (22.7 kg) bags or boxes, which are moved by forklift onto a mezzanine and manually loaded into the mixer below.

The mixer, powered by a 50 hp (37.3 kw) motor, can process batches of 7,000 to 12,000 lb (3,175 to 5,443 kg), depending on the density of the product. This compares with a combined total of about 2,000 lb (907 kg) for the three paddle mixers previously used, says Ports. The material is discharged into bulk bags and moved by forklift to the bulk bag discharger.

Flexicon's bulk bag discharger can handle bags up to 3,200 lb (1,450 kg), but J.O. Spice continues to use 1,500 lb (680 kg) bags for ease of movement. The discharger frame has a cantilevered I-beam and a 2 ton capacity hoist and trolley for lifting a bag into place. The chain hoist has a clevis and four Z-CLIP™ strap holders* that attach to loops on the bag.

Material is discharged from the bag into a 20 ft3 (0.57 m3) hopper via an iris valve, which is opened and closed by a hand-operated wheel. The discharger is equipped with FLOW-FLEXER® bag activators that raise and lower opposing edges of the bag at timed intervals, thereby loosening compacted material and promoting material flow into the discharge spout.

As the bag lightens, the stroke of the activators increases and forms the bag into a steep "V" shape. This eliminates dead spots and achieves total evacuation of the product. The discharger is equipped with bag activators for "stubborn products that don't flow well," says Ports.

The hopper has dual flanged outlets that mate to two vibratory feeder troughs for the packaging operation. Each trough feeds product directly into a 50 lb (22.7 kg) or 75 lb (34 kg) box, or a 125 lb (56.7 kg) drum. The containers are placed on a scale and the feeder is programmed to operate at high speed until the weight is within 90% of the limit, then dribbles product slowly until it reaches the setpoint.

The redesigned production and packaging system is not only more efficient, but is easier to operate than the method formerly used, says Ports. Also, the higher capacity has enabled the company to take on new business. "We had been doing some contract packaging of other products, such as cake mixes, and we have been able to expand that," he says. Based on the increased business, he expects to recover his investment in the new equipment within four years.


*Patent(s) granted and/or pending.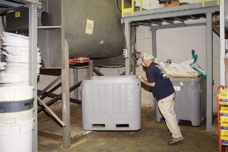 Click to enlarge
Figure 1: A batch of product is unloaded from the paddle mixer into a 1,500 lb bulk bag that is draped inside a tote bin.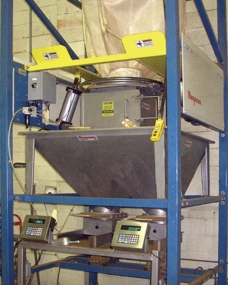 Click to enlarge
Figure 2: The bulk bag discharger empties a 1,500 lb bag of product into a hopper that feeds two packaging lines.

Click to enlarge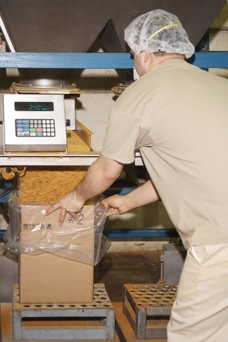 Click to enlarge
Figures 3 & 4: On the packaging line, product destined for restaurants is loaded into a box by a vibratory feeder trough. An operator removes the box from the scale when it reaches the preset weight.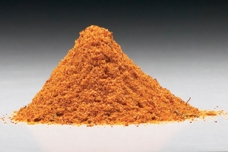 Click to enlarge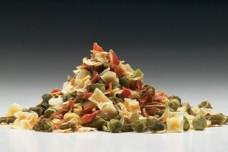 Click to enlarge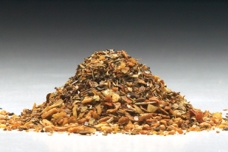 Click to enlarge
Figures 5, 6 & 7: A sampling of J.O. Spice seasonings - Crab Boil (top), Maryland Crab Soup (center) and Wild Game (bottom).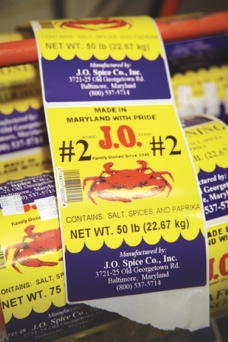 Click to enlarge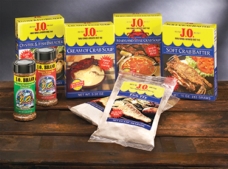 Click to enlarge
Figure 8 & 9: Some examples of J.O. Spice's retail seafood seasoning products.
V-0365