CASE HISTORIES

Conveying spice blends to packaging machines without segregation, contamination
IVYLAND, PA — World Flavors Co., Inc. blends and packages a variety of seasonings, powdered coffee and drink mixes, requiring process equipment that can prevent segregation of blended products and be sanitized quickly and thoroughly between changeovers, preventing cross contamination. In addition, the company needs to handle large runs of certain products (12 million lb/y [5.4 million kg/y] of dry cappuccino for instance) and to meet increased capacity requirements prior to holidays. In flavored coffee drinks alone that equates to repeated blending of 9,000 lb (3,357 kg) batches.

World Flavors' packaging manager Russ Perry, who has been with the company since 1987, recalls the days before the company installed its flexible screw conveyors. "Previously, we manually scooped material into the filling machine hoppers," he says.

The company now runs eight flexible screw conveyors that are 15 ft (4.6 m) in. length and 4 in. (10.2 cm) in diameter. Produced by Flexicon Corporation, the conveyors consist of a polymer tube that encloses a flexible stainless steel screw driven by an electric motor. As it rotates, the screw propels material through the tube and self-centers, providing sufficient clearance between the screw and the tube wall to eliminate or minimize product degradation. World Flavors standardized on the Model 1450 conveyor so spare parts could be swapped out and used across all the lines.

Three of the conveyors run on lines dedicated to cappuccino mix, but at the height of the season, the company runs the cappuccino on six lines. The other conveyors run a variety of spice blends throughout the year ranging from sausage-patty flavorings and spice blends for prepackaged sweet potatoes to pumpkin-pie spice blends and individual spices such as cinnamon and vanilla.

As a purveyor of many blended products, World Flavors is diligent in preventing the separation of blended products (often comprised of disparate particle sizes and shapes) as they move from blending to packaging. Russ says, "The gentle rolling action of the inner screw moves blends with no separation throughout the entire length of the conveyor."

Following formulas developed by World Flavors' R&D, workers combine ingredients, and then load each batch into one of seven blenders according to batch weight. Small batches weigh up to 300 lb (136 kg), medium batches up to 1,400 lb (635 kg), and large batches up to 8,000 lb (3,628 kg). Uniform blends are discharged from blenders into rigid-plastic, 38 in. square (96 cm2) totes that hold 1,600 lb (726 kg) of the mix. After passing quality control, workers move the totes to a holding area.

When a production run is readied on one of the eight packaging lines, a forklift operator sets a tote atop a flexible screw conveyor's 38 in. (96 cm) high, 8 cu ft (2.4 m2) capacity hopper, which is configured with a cradle for the tote. The operator opens the 10 in. (25 cm) slide gate at the bottom of the tote and the material flows into the hopper. When the hopper is full, the operator activates the flexible screw conveyor, which conveys the material at a 45 degree angle, at a rate of 140 cu ft /h (42.7 cu m/h) to an elevation of 12 ft (3.7 m) for discharge into the packaging machine. High and low level sensors in the packaging machine signal a controller to stop or re-start the rotation of the flexible screw when the machine calls for material.

The company performs a wash-down procedure between a certain number of runs, depending on the flavors conveyed that day. The quick-disconnect feature of the conveyor allows operators to quickly release it from the line and roll it to a dedicated area for a pressure-wash between runs. "T-bolts at each end of the conveyor tube are removed rapidly without tools," Russ says. The removable clean-out cap at the intake end of the conveyor tube permits reversing screw rotation for emptying and flushing of the tube, as well as disassembly and wash-down of components.

When the time comes for complete sanitizing, plant personnel disconnect the screw and tube from the hopper and drive motor and move the conveyor to the cleaning area, where they remove the screw from the tube, allowing thorough wash-down.

"If we just ran a hot-Italian seasoning blend for sausages, and needed to follow it with a cappuccino mix, we would disassemble the conveyor, pressure wash and dry everything, reassemble the components and start running the next flavor, in about 20 minutes," he says.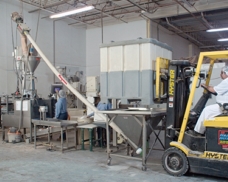 Click to enlarge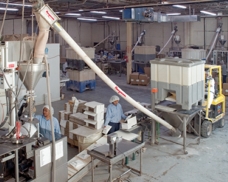 Click to enlarge
Forklift operator sets tote atop 8 cu ft (2.4 sq m) hopper from which a 15 ft long (4.6 m) flexible screw conveyor transports blends to packaging machine.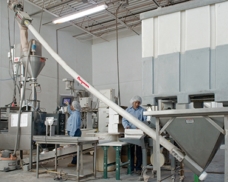 Click to enlarge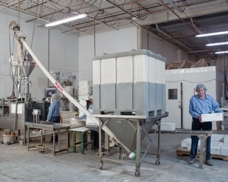 Click to enlarge
Each flexible screw conveyor transports powder at a rate of 140 cu ft (42.7 cu m) per hour 12 ft (3.7 m) above the plant floor for discharge into each packaging machine.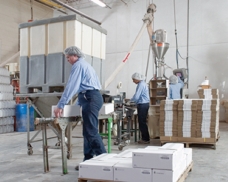 Click to enlarge
Operator removes finished packages from the line.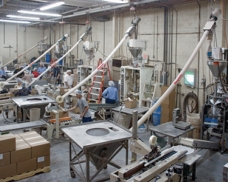 Click to enlarge
Eight flexible screw conveyors feed spice blends to packaging machines. Three conveyors (not shown) are dedicated to dry cappuccino mix.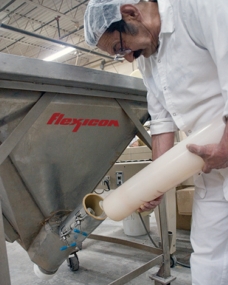 Click to enlarge
Operator quick-disconnects conveyor tube before moving it to cleaning area.
U-0630