CASE HISTORIES

Bulk handling system ups frozen food quality, cuts labor
LOWESTOFT, UK — Efficient production processes are critical to the survival of companies operating in the frozen food sector — a fiercely competitive landscape of tight margins, ever shrinking market size, and high consumer expectations. To that end, Unilever Ice Cream & Frozen Food's Lowestoft, UK, operation, a major producer of Bird's Eye® brand products, has become a symbol of efficiency, garnering a host of accreditations and regularly exceeding internal Unilever productivity targets.

Essentially four factories in one due to the red meat, poultry, potato, and vegetable products it produces, the Lowestoft plant distributes more than 100,000 tons of frozen food each year. The plant has found success through investment in both its people and machinery, reviewing every manufacturing process to identify areas where quality, production efficiency, and worker safety can be improved.

In one instance, by redesigning the way in which dry ingredients are transferred and introduced into the wet batter mix used to coat chicken nuggets, the company was able to improve operator comfort and safety, minimize product loss due to spillage, cut dust emissions, and drastically boost process efficiencies. Engineered and manufactured by Flexicon Europe Ltd., the bulk solids handling system adds automation to a process once constrained by labor-intensive manual steps, cutting six hours of work down to 1.5 hours.



Bulk handling system overcomes inefficiencies


In the manufacture of chicken nuggets, raw chicken is mixed with other ingredients and then shaped prior to being coated. The nuggets are then cooked, quick-frozen, packed, and distributed to supermarkets. While the in-line process involving the wet batter mix is continuous, preparation of the dry batter mix is an off-line batch process.

Before the bulk handling system was installed, an operator first accessed an 1,874 lb (850 kg) pallecon (a pallet-like container with sides) of dry batter mix, removed the lid to expose the plastic liner, and moved the pallecon to a tipper via a forklift truck. Once pneumatically tipped, the pallecon's plastic liner bag spout was manually untied and placed into the neck of a chute through which the powder was discharged, filling two 150 lb (68 kg) capacity bins mounted on a wheeled cart. A manually operated slide gate valve controlled the flow of material. Filled bins were then wheeled anywhere from 30 to 300 ft (9 to 91 m) to batter mixers adjacent to chicken nugget coating lines.

The new Flexicon system consists of a low profile feed hopper with flow promotion devices, a 10 ft (3 m) long model 1450 flexible screw conveyor, and a 2 hp (1.5 kW) gear drive. The entire unit is mounted on a mobile base frame with adjustable leveling jacks. Also integral to the system are two 35 cu. ft. (1,000 l) intermediate bins.

With the new system, 1,874 lb (850 kg) bulk bags, which are positioned using a remote controlled hoist, have replaced the pallecons, allowing efficient transfer of dry batter into the intermediate bins. Using the hoist an operator suspends a bulk bag above one of the bins, and unties the bag spout, allowing the contents of the bag to free flow into the bin, which is then transferred using a pallet jack to the appropriate process line where dry ingredients are introduced into a batter mixer. Since these ingredients tend to pack, cake, smear, bridge or cavitate, transfer bins are equipped with Flexi-Finger flow promotion devices that continually agitate the material.

Previously, operators manually transferred the dry batter mix from mobile bins into a 5-ft (1.5-m) high hopper using a stainless steel shovel, requiring them to climb several steps — an ergonomically challenging affair that resulted in the loss of 2.6 lb/h (1.2kg/h) of product per line, equating to $113 (€90) every 66 hours. The dry batter mix was then gravity fed from the hopper to a mixing chamber from where it was introduced to the in-line process as wet batter mix. After each 2-bin batch was transferred from hopper to batter mixer and processed (about 20 minutes per bin) the operator would repeat the trip to and from the dry store 18 times during a 12-hour shift. At full capacity there could be 8 pallet jacks holding up to 16 bins — four in the process line areas and four in the dry store area.

The new system eliminates shoveling, allowing intermediate bins to be positioned directly above the low profile T-18 hopper and lowered to allow the outlet cone of the bin to seat against a hopper seal.

Dry ingredients flow to the bottom of the hopper where an exposed section of the flexible screw feeds material into the 4.5-inch (114 mm) diameter flexible tube, propelling it at a 45° incline to a transition adapter from which it gravity discharges into a batter mixer. A low level sensor in the receiving hopper and high level sensor within the transition adapter assist the operator in monitoring operation of the system. During the conveying process the operator retrieves another tote bin to replace the one being discharged.

The enclosed system contains no cracks, crevices, filters or bearings that can trap particles or prevent thorough cleaning. The only moving part contacting material is a rugged stainless steel screw, reducing the potential for wear and maintenance.

As it rotates, the screw self-centers within the tube, providing clearance between itself and the tube wall, which prevents grinding. The steady rolling action of material prevents separation of dry ingredients throughout the entire length of the conveyor, while the hopper-mounted dust collector integral to the sealed system eliminates the dust and spillage previously experienced.

The new material handling system has reduced the number of trips needed for returning dry ingredients to the storage area during a 12-hour shift, from 18 to 4. Within the different product lines there are several dry mix recipes with bulk densities ranging from 9.3 to 38.4 lbs/cu ft (118 to 486 kg/cu m). At an average of 30 lbs/cu ft (380 kg/cu m), a single bulk bag supplies enough material for about 4 hours of production.

The Lowestoft plant has since adopted the system on four additional production lines: crispy chicken, Bar-B-Q griddlers, waffle fries, and a second chicken nugget line.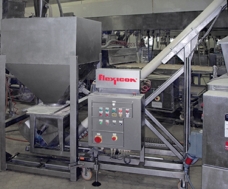 Click to enlarge
Intermediate bin feeds dry ingredients directly into hopper for transfer through the flexible screw conveyor to the batter mixer. Workers previously climbed steps and, with a stainless shovel, loaded ingredients into a 5-ft (1.5-m) high hopper.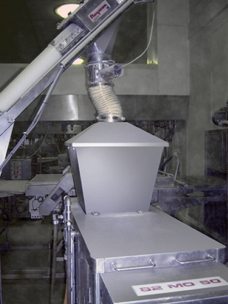 Click to enlarge
The self-centering flexible screw moves dry batter mix through an enclosed tube to a transition adapter from where it is gravity discharged into a batter mixer.
U-0609