CASE HISTORIES

Conveyors and Bulk Handling Unit Improve Safety and Processing of Fertilizers
KING'S LYNN, UK — Omex Agrifluids Ltd. manufactures specialty emulsion fertilizers for use worldwide. The company's innovative grades are based on formulations in which nitrates, potash, salt, and trace elements are blended with liquid compounds to produce a range of foliar nutrients, health promoters and biostimulants.

Omex manufactures fertilizer in its King's Lynn plant. The original process was labor intensive. Operations began with a forklift operator moving pallets loaded with 55 lb (25 kg) bags of chemicals to a 10 ft (305 cm) high mezzanine over a 11,000 lb (5 tonne) capacity blender. A worker on the mezzanine lifted bags from the pallets, split them open, and emptied them into the blender, which contained liquid compounds. This was usually done twice a day. The mezzanine worker unloaded, opened, and emptied as many as 280 bags, amounting to 15,400 lb (7000 kg) of chemicals. A total of 22,000 lb (10 tonnes) of fertilizer was produced daily.

The operation also raised concerns about safety and process quality. There was a risk of injury to workers from handling so many bags. Dust emissions from the chemicals were a potential hazard. Emptying bags by hand into the blender was inefficient and slowed down mixing time. Omex decided to upgrade its materials-handling process, and turned to bulk-solids-handling specialist Flexicon (Europe) Ltd. for assistance.



Screw-fed conveyor keeps bag-handling at ground level


Flexicon's initial solution was to design and install a screw-fed conveyor system that eliminated the need for material to be handled from the mezzanine. While bags would still be manually opened and emptied into a hopper, work was done at ground level with the conveyor controlling the rate of material flow. The Flexicon system also incorporated a dust extractor designed by Omex and installed above the hopper to minimize inhalation risks from airborne particles.

Components of the system include: a 15 ft (4.5 m) long conveyor with a flexible, self-centering screw mounted in a plastic tube; a floor hopper with fixed bag tray and mesh screen; mechanical agitators to assure an even flow of material through the hopper and into the throat of the conveyor; a 3 Hp (2.2 kw) motor with gear drive; and a control panel.

The conveyor is mounted at a 45° upward angle from the hopper. The Flexicon screw is designed to transport material on its top surfaces through the conveyor at a preset rate. The screw's ability to self-center within the tube provides ample clearance between the screw and tube wall to prevent product damage. At the end of the conveyor chemicals are gravity-fed through a transition adapter into the center of the blender. Since the chemicals fall into the vortex of the mix, blending is more efficient and takes less time.

The system proved to be so successful that Omex installed a second screw-fed conveyor with the same specifications.

The company soon had reason to expand its materials-handling equipment. Legislation affecting the sale of certain chemicals necessitated installation of a bulk bag discharger. British lawmakers were concerned that ammonium nitrate, a key fertilizer ingredient, might be sold to individuals who would use it for explosives. A law was passed limiting sale of the chemical to bulk quantities of 2200 lb (1 tonne) or 3300 lb (1.5 tonnes). Omex again turned to Flexicon (Europe) Ltd. for a system to handle bulk bags in those sizes.



Bulk-discharge unit enhances productivity and economy


Flexicon addressed this need by installing a bulk bag unloading system. Operation is easy and safe. A bulk bag is attached to a split frame, which is then hoisted by forklift and loaded into the discharge system. When the bag is in position, a worker opens an access door and feeds the bag spout into the mouth of the chute interface. The worker then unties the spout and material is discharged down the chute and into a hopper.

The discharge system utilizes FLOW-FLEXER® plates bag activators that raise and lower opposite bottom edges of the bag at timed intervals, promoting material flow into the bag discharge spout. As the bag lightens, the stroke of the bag activators increases, raising the bag into a steep "V" shape to promote total evacuation of material with no manual intervention. This not only prevents waste, but also frees the operator for other tasks while the bag is discharging. A vibrator mounted on the side of the chute interface keeps material flowing and eliminates caking of chemicals or buildup in corners of the chute.

Omex Agrifluids improved worker safety and the environmental quality of its factory with this equipment, gained process efficiencies and economies of scale, and complied with government regulations.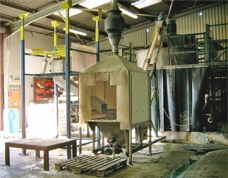 Click to enlarge
Bulk bag discharge system installed at Omex Agrifluids includes bag frame (upper left), FLOW-FLEXER® plates, hopper chute, and conveyor at rear that transports material to the blender.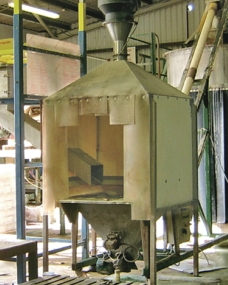 Click to enlarge
Discharge chute interface with side-mounted vibrator runs from bag outlet to hopper.
T-0418