CASE HISTORIES

Cement Plant Conveys and Weighs "Green" Bulk Fuel Ingredients in Process to Replace Coal
LINCOLNSHIRE, UK — Castle Cement's Ketton Works replaced coal for firing of its rotary kilns, with PROFUEL™, an alternative fuel comprised of cardboard, paper, plastics, textiles, carpet and other "green" fuel waste materials. In 2002 the company built a £4-million ($7.56-million), three-stage Profuel preparation plant that required conveying and weighing of the Profuel material as well as pulverized fuel ash (PFA) that is heated along with calcium oxide, silica, aluminum and iron in horizontal rotary kilns at 1600°C (2940° F).

The company chose to convey and weigh the Profuel materials differently than it did the PFA.

Green fuel waste that has been shredded and ground into particles approximately 20 mm (0.8 in.) in diameter, are conveyed from two 300-cu/m (10,590-cu/ft) bunkers through two enclosed rotary weigh feeders to two sluice valve hoppers at a rate of 5000 kg/h (11,000 lb/h). Rotary weigh feeders, as opposed to traditional belt and apron weigh feeders, continuously weigh and meter the material whose bulk density fluctuates due to type and ratio of waste being fed.

The pulverized fuel ash is conveyed from an 8-ton silo through a bifurcated discharge chute that charges the intake adapters of two 114-mm (4.5-in.) diameter flexible screw conveyors, one of which is 1.9 m (6.2 ft) in length, and the other 6.3 m (20 ft) in length. Each conveyor is dedicated to transport PFA at the rate of 1000 kg/h (2200 lb/h) to one of two, 1-ton capacity silos with automated loss-of-weight batching capability. In turn, the silos deposit 10 to 50-kg (22 to 110-lb) shots of PFA into the intake adapters of two additional flexible screw conveyors that terminate at the same sluice valve hoppers as the above mentioned rotary weigh feeders.

Designed, manufactured, installed and commissioned by Flexicon (Europe) Ltd., the flexible screw conveyor system satisfied the need to route the PFA material vertically, horizontally, and varied angles — over, under, and around pipes, piers, upright supports and other equipment in place to process the Profuel materials — while containing dust.

From the sluice valve hoppers, the Profuel fuel-ash mixture is conveyed pneumatically to either of two horizontal rotary kilns, one with a capacity of 1200 tons/day, and the other with a capacity of 2400 tons/day.

Profuel "green" fuel, possessing similar calorific value to coal, helps the UK government reach waste recovery targets and reduce use of fossil fuels. It burns cleanly and completely in the kilns, with no black smoke or odor. Any residue becomes locked into the crystalline structure of the cement. The Profuel preparation plant allows Ketton Works to produce 1.2 million tons of cement annually in an environmentally friendly manner.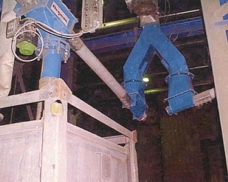 Click to enlarge
Pulverized fuel ash transfers through bifurcated chute assembly and flexible screw conveyors to two weigh silos for transfer to sluice valve hoppers.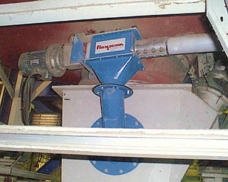 Click to enlarge
PFA material is gravity discharged from a flexible screw conveyor's discharge chute into the side of a sluice valve hopper.
T-0417