CASE HISTORIES

TIP-TITE® Drum Dumper Lets Workers Breathe Easy at Bosma Industries for the Blind
Dust control, a priority at any processing plant, recently posed a problem at Bosma Industries for the Blind. Founded in 1915, the private not-for-profit agency provides on- and off-site employment for 65 blind and visually impaired workers in the region. Bosma specializes in the production of textiles, dry-food packaging, packing, assembly, and other labor-intensive jobs.

The company sought a solution to problems presented by an open-chute drum dumper on its powdered food line. The dumper required two of Bosma's visually impaired employees to manually position up to 25 drums a day, each of which weighs approximately 300 pounds. It also created dust each time it emptied a drum, requiring operators to wear masks and continually clean nearby equipment.

"Even though we have a ventilation system to exhaust the dust, we were not able to eliminate it," says Chris Duell, a Bosma production manager. After a vendor showed Duell a food industry publication advertisement for a TIP-TITE® drum dumper, he contacted Matt Williams at Flexicon Corporation, Bethlehem, PA, and ordered a stainless steel unit finished to food processing standards.

Duell says installing and wiring the lift-and-seal dumper took about one day, and that the installation process was self-explanatory. The dumper enables Bosma employees to load, seal, tip, and discharge drums with no dusting and less effort.

The operator now uses a drum handler to lift drums onto the dumper's rollers. He or she then removes the lid and rolls the drum into position. One switch locks the drum in place and tips it.

The dumper's hydraulic lift automatically forms a dust-tight seal between the drum lip and the discharge cone. The assembly is tipped hydraulically, causing the cone to mate with the gasketted receiving ring that is fitted to an enclosed hopper lid. The operator then opens a gate valve to release the product into the hopper, which discharges into a conveyor system.

Duell says the dumper has eliminated dust in that part of the facility, allowing employees to work without masks. In addition, a single worker can now accomplish the work that previously required two. By eliminating the dust, the dumper also reduced the labor previously required to clean equipment each day.

"The dumper is a great improvement for us and our employees are appreciative," says Duell, adding, "Bosma is considering a Flexicon bulk bag discharger for another plant upgrade."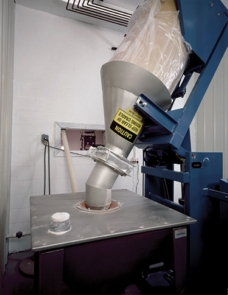 Click to enlarge
TIP-TITE® drum dumper: Operator controls hydraulic lift which automatically tips drum and mates with receiving ring on hopper.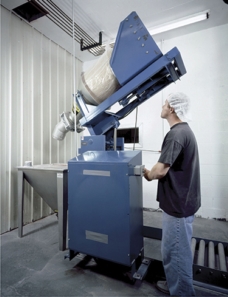 Click to enlarge
For dust-free dumping, hydraulic lift forms dust-tight seal between drum lip and discharge cone. Discharge cone mates with gasketted receiving ring on hopper lid.
R-0776