CASE HISTORIES

Dumping and Conveying A Feather-Light Material Dust-Free
FAIRHAVEN, MA — Synthetic amorphous silicon dioxide, otherwise known as "fumed silica," is one of the lightest substances known. Bulk density is 3 lb per cu ft (38 kg/cu m) with average particle sizes from 0.2 to 0.3 micron. Particles form agglomerates that look and behave like down feathers. Handled incorrectly, the powder readily escapes as nuisance dust "so light that it actually hangs in the air," says Jim McGown, Nye Lubricants, Inc. facilities manager.

Although feather light, the bulk density of the loosely packed agglomerates can more than double when force is applied, causing packing.

These properties make the fine, white, semi-free-flowing powder a challenge to handle.

Nye Lubricants adds fumed silica to oil as a thickener to produce synthetic damping greases. The company found a clean and safe way to introduce the powder into process vessels by replacing manual bag dumping with a fully enclosed caster-mounted mobile bag dump station from Flexicon Corporation comprised of a hopper, dust collector and flexible screw conveyor.

Operators now empty bags into the bag dumping station, while the flexible screw conveyor feeds the material into a process vessel. No powder escapes into the atmosphere.

Operators previously lifted bags onto an 8-ft (2.4 m) high operating platform, and emptied them into the process vessels. McGown says tramp fused silica inevitably escaped into the air.

Now, physical effort is reduced and potential safety issues are avoided as the operator cleans and opens bags on the waist-high bag tray support, and dumps contents into the deep (3 ft [0.9 m]) hood to receive the contents of 44"x 23"x 9" (112 x 58 x 23 cm) bags that weigh only 10 lb (4.5 kg) due to the airy powder's high void volume.



Includes Internal Dust Collection


A 2 hp, 1200 cfm (34 cu m/min) fan draws airborne dust onto the exterior surfaces of two cartridge filters. A "pulse-jet" filter cleaning system employs solenoid valves to release short blasts of compressed air inside the filters at timed intervals, causing dust build-up on filter surfaces to fall into the hopper.

A pneumatic turbine vibrator in the 14 cu ft (0.4 cu m) pyramidal hopper dislodges the powder that tends to interlock and mat, thereby promoting flow into the flexible screw conveyor's 45 degree intake adapter.



Flat Screw Moves Feather-Light Powder


The 15-ft (458 cm) long flexible screw conveyor transports the powder, at a 45 degree angle, into a process vessel through a transition adapter. A 4.5" (137 cm) diameter UHMW polyethylene outer tube encloses a flexible stainless steel screw having flat flight surfaces that impart particles with force in a longitudinal direction, minimizing radial movement toward the tube wall.

The operator wheels the caster-mounted system to add fumed silica, in 300-lb (135 kg) batches, to several process vessels preparing various grades of light to heavy damping greases. From the 7.8 ft x 3.6 ft (238 x 110 cm) base frame, a 13 ft (397 cm) high mast supports the flexible screw conveyor and motor.

In addition to improving worker safety and plant cleanliness, the mobile bag dump and conveyor system "frees workers for other process-related functions," McGown says.



Damping Grease Applications


Damping grease controls motion vibration, buzzes, squeaks and rattles in mechanical and electromechanical components. The grease is used in numerous automotive applications, such as multifunction switches, power mirrors, and seat tracks, to dampen free motion and noise and impart a quality feel. Damping grease also finds use in optical instruments, recreational and office equipment, and appliances. The grease is formulated by mixing an oil with a thickener that holds the oil in place. When the grease is sheared by the rotation of a shaft, sliding of a lever or rolling of a bearing, oil is released from the thickener to lubricate the moving parts.



Nye Lubricants, The SMARTGREASE™ Company

http://nyelubricants.com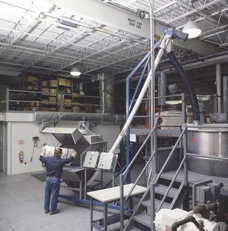 Click to enlarge
Operator empties bags of fumed silica into bag dumping station dust-free while flexible screw conveyor feeds line material into a process vessel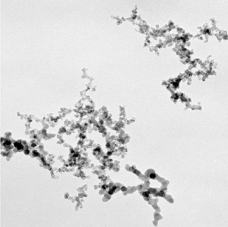 Click to enlarge
Electron micrograph of fumed silica at 100,000X magnification shows loose packing of chain-like aggregates.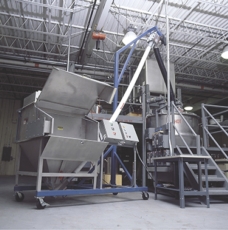 Click to enlarge
Bag dump station, dust collector and flexible screw conveyor are self-contained on a caster-mounted frame which is wheeled between process vessels requiring 300 lb (135 kg) batches of fumed silica.
P-1161