CASE HISTORIES

How Flexicon flexible screw conveyors help batch, blend and feed powdered chemical blends to packaging lines
Burr Ridge, IL — Floralife Inc. makes flower foods, pretreatments, and other chemicals used on cut flowers.

The chemicals are packaged in bags ranging from 6 to 50 pounds as well as in 100-pound fiber drums, and are sold to floral wholesalers.

Chemicals are also sold to floral wholesalers in 5-gram packets, which are also filled by packaging machines. Prior to installing Flexicon conveyors, workers would use a forklift to lift 50-pound drums for dumping raw ingredients into the packaging machines' surge hoppers. An operator continually monitored the hoppers to ensure they had enough powder in them.



Automating the operation with Flexicon conveyors


"We now use three Flexicon flexible screw conveyors to transfer material from a blender to the surge hoppers on the three packaging machines," says Steve Scott, Assistant Vice President of manufacturing, Floralife.

"This eliminates the need to lift 50-pound drums with a forklift, then have an operator go up on a platform to dump them. No time is wasted waiting for a forklift to become available."

"Whenever the packaging machines run low on powder, level sensors in the surge hoppers turn the Flexicon conveyors on, to refill the surge hoppers automatically."



Eliminates spillage


"In bucket conveyors, some powder is always left in the bottom of the bucket. Powder also leaks from bearings and seals and spills onto the floor. In the past, we would end up with 40 to 50 pounds of product on the floor per day. Seals and bearings had to be replaced once a month.

"The advantage of the Flexicon screw and tube is that neither end terminates at a bearing. This means you are not driving powder into a bearing, as other conveyor systems do."

"When powder gets into seals and bearings, it causes wear and leakage, necessitating frequent bearing replacements."

"We've had one Flexicon conveyor for 15 years, and only had to replace the spiral and outer tube once in the 7 years I've been with the company. We haven't had to replace any parts on our other Flexicon units, which we've had for 3 years."

The three Flexicon units feeding the surge hoppers on the packaging machines convey 3,000-pounds of chemicals daily. A fourth Flexicon conveyor, used to fill bags and drums of flower foods sold to wholesalers, moves 10,000 pounds of material per day.

"The Flexicon unit uses a screw in an enclosed tube to convey material, so no dust is generated when filling surge hoppers. This has reduced dust in the plant by 70 to 80 percent."



A flexible solution


"For our application, the Flexicon units require very little maintenance — only periodic cleaning to make sure no residue is left in the tube. And I would rate reliability a 9 on a scale of 1-to-10."

Floralife Inc. recently celebrated its 50th anniversary. The firm is privately held. Mr. Scott has been with the company for seven years.


Click to enlarge
After the product blending, two flexible screw conveyors transport product in opposite directions. The smaller conveyor on the left feeds a small batch packaging line.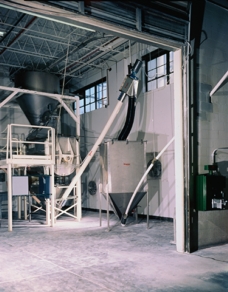 Click to enlarge
The larger flexible screw conveyor loads product into a 100-cubic-foot surge hopper, freeing the blender's discharge hopper to receive additional product.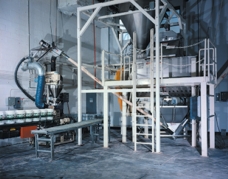 Click to enlarge
The inclined conveyor drops product to a packager beneath it or transfers product to horizontal conveyors feeding two other packagers.
N-1433