CASE HISTORIES

Automatic bulk bag discharging and powder metering improve efficiency, safety at well known chemical producer
Improved production efficiency combined with intrinsically safe standards of operation for powder handling within a hazardous area are among the benefits gained by installing a fully automated bulk bag discharger and batch metering system by Flexicon at the Huddersfield site of Holland Dyes and Chemicals Ltd.

As one of the UK's principal manufacturers of chemical dyes, the Company's production relies on consistency of formulation with a primary target of 'right first time' performance for raw material proportioning and blending.

Flexicon's task was to automate what had hitherto been a largely manual system. This was accomplished through close liaison with Jacobs Engineering and Holland Dyes & Chemicals' engineers to design a fully enclosed mechanical conveying solution.

The raw material, which is received in flexible intermediate bulk containers (FIBCs), is dispensed to a reactor vessel for processing intermediate liquid chemical batches.

In the interests of safety, all equipment and instrumentation is designed to minimise the probability of fire or explosion, in accordance with the latest European safety regulations. The inherent simplicity and gentle handling characteristics of the Flexicon rotating spiral conveyor offered a number of key advantages in this application. Primarily, the absence of air as the conveying medium ensures that the powder maintains its moisture content, which is essential to limit the risk of ignition within the system through electrostatic discharge.

Further benefits afforded by a totally enclosed conveying system such as this, include protection from dust emission to the environmental atmosphere and the consistency of material transfer between the bulk bag, batch weighing hopper and process reactor.

The batch weigh hopper controller incorporates an alarm which maintains a 'no material/no feed' status. The horizontal metering conveyor which charges the reactor, operates only after receiving a start signal from the main PLC. Once 95% of the batch feed stock has been discharged, the conveyor switches to a trickle speed until the precise quantity of powder has been delivered.

Being of modular construction, the bulk bag discharge station was readily installed on one of the upper floors. The associated batch weighing hopper and transporter conveyor was designed to provide a very compact installation, which included a combined horizontal and vertical coreless auger conveyor system featuring a customised transfer junction.

To assist with a free flow of the very cohesive powder, which is prone to both bridging and ratholing, a combination of two flow assistors was employed. A rotary agitator operates immediately above the horizontal feeder auger and above that, a low energy "Flexfinger" vibratory grille. Bags weighing up to 1 tonne can be accommodated above the discharge unit, which incorporates an enclosed bag spout interface and flow control valve, designed to enable dust-free connection and disconnection when changing bags.



Multi-ingredient batching from bulk bags


Where other applications call for multi-ingredient batching, Flexicon can link a number of bulk bag dischargers to a central controller, thus allowing individual materials to be transferred in a totally enclosed environment to a mixer/blender.

Batch control is sequenced by a PLC, which activates each conveyor in turn to load a pre-programmed weight of material into a central hopper. Conveyors work in combination with the weight controller, reducing the high speed material flow to a final trickle feed at the end of each filling cycle. The outlet valve then closes automatically when the precise target weight is reached. The system compensates for material in flight and should an overweight or underweight situation occur or if a bulk bag becomes empty, the weighing system will raise an alarm signal. Final batch reports can be provided, containing all the individual fill weights and total batch weights. For plant-wide quality control requirements, the system can be interfaced with remote database management facilities.

Complete batches are discharged through a slide gate valve to a ribbon blender from where they can be transferred into drums, vessels or other storage containers. Alternatively, blends can be metered via a Flexicon flexible screw conveyor directly to process streams, extruders or packaging equipment.

A diversity of materials ranging from sub-micronised powders to granules can be handled and the system is particularly suited to the hygienic blending of vulnerable ingredients. These include pressure sensitive products as well as those containing oil, fat, moisture or other additives that often cause particles to cake, pack or smear using conventional transfer methods.

Bags weighing up to 2 tonnes can be accommodated above each discharge unit which is equipped with a hopper intake chute and flow control valve designed to enable dust-free connection and disconnection of the bag spout. To assist the flow of sluggish materials, "Flowflexer" bag activators raise and lower the base edges of the bag at timed intervals. This loosens any compacted material and ensures a consistent supply to the conveyor. Each stroke of the activator increases as the bag empties, lifting it into a steep "V" shape. At the same time, a top-mounted extension device stretches the bag into a cone shape, further streamlining material flow.

Flexicon flexible screw conveyors feature the mechanical efficiency of a steel spiral revolving inside an ultra high molecular weight polyethylene tube. This gently moves material without the need for costly air pressure or vacuum systems.

The conveyors are of modular design and have smooth-wall inner surfaces with no crevices to entrap material. This enables clean, low maintenance operation, besides which, the system can be extended by means of adding further conveyor modules as and when required.

The components for each system are of modular design and can be assembled quickly on site. A choice of construction is offered in either coated carbon steel or stainless steel. Flexicon is able to pre-test materials for flow characteristics and to guarantee predictable performance standards.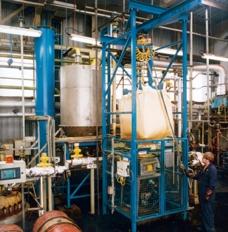 Click to enlarge
Bulk Bag Discharger working in flammable area, feeding batches of raw material to a reactor vessel.
M-1390