CASE HISTORIES

Innovative approach to weigh/batch mixing directly from bulk bags improves efficiency and workplace safety for a world leader in crop protection
Partnership and product support is how Cambridge based agribusiness company, Novartis Crop Protection UK Ltd, describes the principle behind its development of an automated weigh/batch mixing system, in collaboration with materials handling specialist, Flexicon (Europe) Ltd.

The system is designed to facilitate on-site production for a range of Novartis seed treatment chemicals at a major customer, PBI Cambridge Ltd. The company is the UK's major plant breeder and is committed to an ongoing programme of improvements to its seed processing facilities to meet the economic, environmental and quality demands of the market place.

The seed processing plant has one of the most complex regimes in Europe. Each year, around 30 different crop species are processed, involving in excess of 115 varieties grown for seed on more than 2500 hectares.

"Attention to detail, particularly purity and hygiene standards, is fundamental to the process", explains Mark Bullen, seed treatment business manager for Novartis. "Given that the food chain, from grower to consumer, is coming under wider public scrutiny, Novartis Crop Protection constantly strives to improve yields per acre, without damaging the environment."

"Our future aim," he continues, "is to ensure that we provide customers with maximum flexibility for in-house mixing of seed treatments and employing, where possible, the just-in-time principle. A key consideration is to simplify product changeovers with resultant improvements to productivity and operational hygiene."

Earlier batch mixing methods for seed treatments involved laborious manual tipping of chemicals from 9 kg kegs to the mixing vessels. This resulted in several drawbacks, notably inadvertent spillage of valuable product and inaccuracies in the mixing process through human error.

The requirement was for a compact, self-contained batch mixing station which would meet EU work safety directives, including eradicating repetitive manual handling of chemical products and the potential hazard of airborne dust in the workplace.

A speedy response from Flexicon to the rigorous specifications led to its selection as main contractor for designing and building a user friendly system to suit the confines of the limited floor area available.

"The system has proved to be the right choice for a number of reasons," says Mark Bullen. "The bulk bag discharger with its in-built, flexible type screw conveyor is a first rate piece of equipment."

The system is very simple and efficient in operation, because it safely transfers and meters the chemical compound with a steady and controlled flow, directly from bulk bag to the mixing vessel, in a dust free manner. The fully automated system has significantly increased productivity for the whole seed processing operation and has enabled staff to be re-deployed to other, more productive tasks.

The plant operates at its full capacity between September and February to meet the demand for spring crops. Thanks to the new mixing system, a full day's seed treatment requirement can be prepared in just one or two batch runs, a task which previously took two staff a whole day using manual measuring and mixing methods.

When switching from one seed treatment formulation to another, the rotation of the screw conveyor can be reversed. This evacuates any residual material in the tube, helping to minimise the set-up time between product batches.

"Having looked at several potential system builders," says Mark Bullen, "Flexicon was selected as our preferred supplier, on the basis of its expertise in the handling of bulk chemicals and its ability to offer the best integrated solution , together with a competitive pricing policy. Our relationship with Flexicon is based on partnership, professionalism and a joint goal to provide customers with a reliable, efficient service in an increasingly sophisticated market."

A mechanically controlled conveying system offered particular benefits in the application of handling the granulated chemical blends. The single piece, rotating steel spiral is the only moving contact part. It gently elevates the material from the bulk bag discharger hopper with a continuous tumbling motion, ensuring that blended particles do not separate. Furthermore, the absence of air as the conveying medium maintains natural moisture levels in the product during transfer.

Consistently accurate proportioning of the water/chemical mix is achieved under the supervision of a "Synectic" weigh batch controller. This links with load cells beneath the mixing vessel to relay gain-in-weight information. As chemical material is added to the water, a vertically driven blade mixer continuously agitates the batch to form a slurry.

Batch setpoints are pre-programmed via a numeric keypad. A large, 6 digit LED display indicates weight information in real time. Operators can also call up historical data to check back on previous batch quantities. The system rapidly "learns" and self-calibrates the pre-determined target weight. Precise weighments are achieved with an approach control. This automatically slows the conveyor speed to a trickle feed prior to cutting off material supply to the mixer.

Any extraneous dust generated within the bulk bag surge hopper is continuously removed via a DCE dust extraction unit and safely re-cycled to the mixing vessel. Completed batches of the seed treatment mixture are pumped directly from the mixing vessel to an adjacent LVR (large vessel receptacle). When full, this is transported by fork lift truck to the nearby seed treatment plant.

"Having considered various alternatives, Flexicon was able to offer the system we wanted with the best overall package", concludes Mark Bullen. "The service back-up is first class and we have all the advantages of dealing with a supplier that understand our particular need."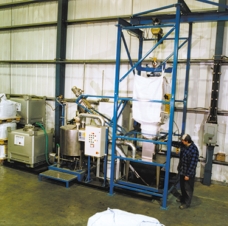 Click to enlarge
Dust-free transfer of Novartis seed treatment chemicals direct from bulk bag to an integral weigh/batch blend mixer is a key feature of this self-contained system installed at PBI Cambridge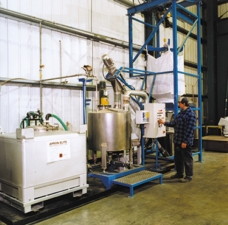 Click to enlarge
M-0586