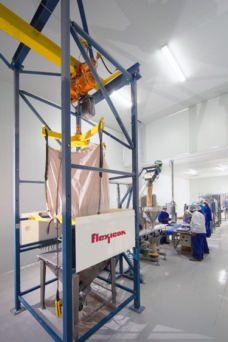 Click to enlarge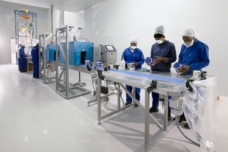 Click to enlarge
View from both ends of automated packaging line, with bulk bag discharger and packaging machine. It is one of seven identical lines.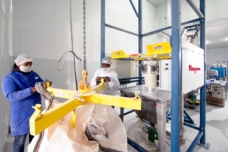 Click to enlarge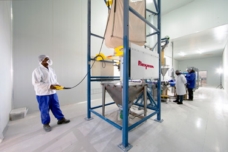 Click to enlarge
Operators attach bag loops to the lifting frame with Z-CLIP™ bag strap holders and hoist it into the discharger using a pendant.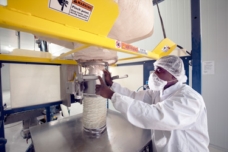 Click to enlarge
The bag spout is attached to a SPOUT-LOCK™ clamp ring atop a TELE-TUBE™ telescoping tube which applies downward tension for complete discharge into the hopper.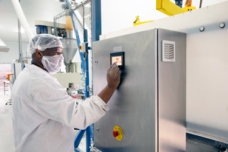 Click to enlarge
Operator initiates a bulk transfer cycle. PLC control provides for continuous filling and accurate package weights.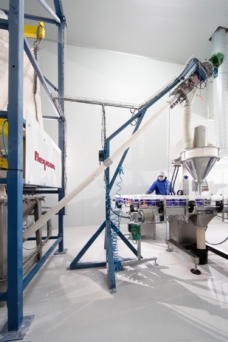 Click to enlarge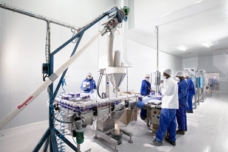 Click to enlarge
From the discharger's floor hopper, the flexible screw conveyor transfers mixed ingredients to the packaging machine hopper and packaging line. Material remains fully enclosed, preventing contamination.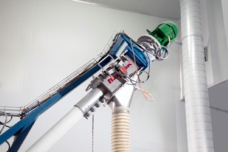 Click to enlarge
The flexible screw conveyor's drive is located beyond the point of discharge, preventing material contact with seals or bearings.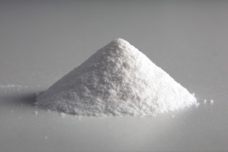 Click to enlarge
Material transferred by the bulk handling system.

Click to enlarge
Creatine Transport is one of USN's diverse products manufactured in the Centurion plant, ranging from amino acids, whey protein, plant-based proteins, and creatine.