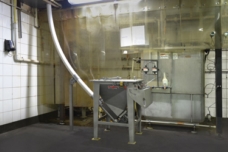 Click to enlarge
The conveyor exits the hopper at a 45 degree incline and curves to vertical, elevating the material 5.5 m (18 ft) to the dosing system inlet dust-free.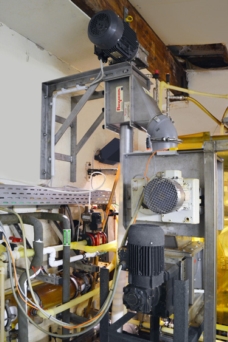 Click to enlarge
A right-angle gear reducer allows horizontal orientation of electric motor to fit below a ceiling beam.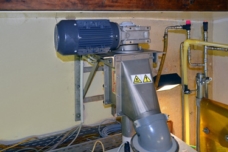 Click to enlarge
The flexible screw is driven by a 2.2 kW (2.95 hp), 1425 rpm IP65 electric motor beyond the material discharge point, precluding material contact with seals.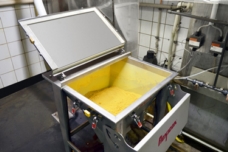 Click to enlarge
The 110 L (3.9 cu ft) capacity hopper, with fold-down support tray and hinged lid, is equipped with a mechanical agitator to reduce agglomerates, promoting flow into the conveyor's charging adapter.