CASE HISTORIES

Dumping from Safety Cages Eliminated with Flexible Screw Conveyors
PARSIPPANY, NJ — SMK Nutra Makers, a formulator and contract manufacturer of dietary supplements and nutritional products, improved production of a protein shake sports drink by switching from manual dumping of a powdered chocolate mix from an elevated safety cage, to dumping of the mix at floor level into mobile flexible screw conveyors.

Previously, operators in a safety cage were raised by a forklift to dump 50 lb (23 kg) bags of the shake powder into either of two screeners positioned above blenders.

To improve the laborious, dusty procedure, the company purchased two mobile, high-capacity flexible screw conveyors, each dedicated to a separate blender. The powder is now dumped at floor level into the hopper of a conveyor, which feeds a screener and, in turn, a blender. SMK owner Avni Patel says, "Manual handling at floor level has increased productivity, eliminated dust, and improved worker safety."



Flexible screw conveyor benefits


Supplied by Flexicon Corporation, each of the BEV-CON™ model conveyors includes a 25 ft (7.5 m) long beveled-edge spiral driven by a motor positioned beyond the discharge point, precluding material contact with bearings or seals.

The conveyor's charging adapter consists of a trough at the outlet of a pyramidal hopper that exposes the intake end of the spiral to the powdered mix. A pneumatically-actuated vibrator fitted to the hopper wall promotes the flow of powder into the trough as the rotating spiral moves it at a 45° incline through the enclosed tube, discharging it into the screener.

A 12 ft (3.6 m) high caster-mounted frame with support boom enables operators to roll the unit into position with the conveyor discharge directly above the screener, and thereafter to a cleaning area. Mobility of the units also provides SMK with the flexibility to satisfy new processes.

Patel says, "We also considered a solid shaft auger conveyor among other options, ultimately deciding on the Flexicon conveyors," which she purchased through manufacturer's Quick-Ship program, reducing the lead time associated with custom-built equipment.

"The conveyors are precisely what we needed," she explains. "We no longer have issues of dust, safety and fatigue when moving the chocolate powder. We're in the process of expanding and will be ordering additional units."




SMK Nutra Makers

+1 732-407-5295
info@smk-global.com
www.smknutramakers.com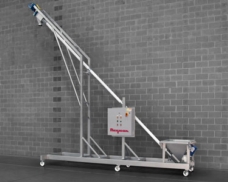 Click to enlarge
Caster-mounted frame with support boom allows rolling of the unit into position with discharge above the screener, and thereafter to a cleaning area.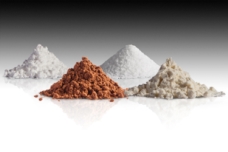 Click to enlarge
SMK Nutra Makers formulates and manufactures dietary supplements and nutritional products in powder and capsule forms.
II-0384