CASE HISTORIES

Cirque du Soleil Adopts Bulk Material Processing to Thrill Audiences and Keep Performers Safe
LAS VEGAS, NEVADA — Cirque du Soleil is known worldwide for its theatrics and technically innovative staging. Its production of KÀ at the MGM Grand in Las Vegas, uses moving platforms and granulated cork to stage a beach scene on the Sand Cliff Deck where cast members frolic in the faux sand until the platform tilts slowly forward and the cork, performers and props are swept off stage, seemingly into the abyss. In reality the performers and props land in a circus net, while 250 cu ft (7,079 L) of granulated cork passes through the net and into containers 50 ft (15.2 m) below.

Because the performers jump, slide and plunge their faces into the cork, Cirque du Soleil cleans and conditions it before use. "We do everything in our power to ensure our acrobats are safe," says Aaron Bush, the daytime lead carpenter at KÀ.

To achieve these stunning visual effects while assuring the safety of its performers, Cirque du Soleil had to begin processing bulk materials, an area of expertise unrelated to the entertainment industry. As the saying goes, "the show must go on," so large volumes of cork needed to be reliably transported and cleaned for reuse in the next performance. To make its vision a reality, Cirque du Soleil turned to Flexicon Corporation for engineering support as well as conveying equipment.



How cork is cleaned between performances


Two batches of cork are required, one for each nightly performance. Cleaning the batches requires a team of three: one in the pit, another at the cork cleaning system and a third at the collection area one floor below.

From the pit, cork granules, together with cork dust and any foreign objects, are conveyed pneumatically to a large surge hopper positioned above the cork cleaning system.

As the cork gravity discharges from the upper hopper through a downspout, it passes through a permanent magnet that catches any bobby pins, nuts, bolts or other ferrous material that might have contaminated the cork.

The material then flows into the 5 cu ft (142 L) surge hopper of a 10 ft (3 m) long Flexicon flexible screw conveyor. A shaftless screw rotating within a 4.5 in. (114 mm) polymer tube inclined at 45 degrees, serves to both elevate the material and feed it volumetrically into a vibratory size classifier/separator. The amount of material continuously fed into the separator can be fine-tuned by infinitely variable adjustment of the conveyor screw RPM.

As particles vibrate across the separator's perforated deck, on-size particles descend through the perforations and through 6 in. (152 mm) diameter flexible downspouting to the floor below, where several nozzles mist it with distilled water. "If the cork is too dry, it becomes really dusty and can leave a film on the deck," says Bush. "That would become a hazard to our performers, and we don't want people breathing airborne dust." Samples are checked using a grain hygrometer, and a bleach disinfectant is sometimes applied to prevent mold. "We like to keep the cork between 68 and 72 percent relative humidity," says Bush.

Oversize foreign matter continues across the separator's perforated deck and discharges through a downspout into a receptacle.

Cork dust is separated from on-size particles by an upward flowing airstream produced by a fan below the separator's perforated deck, and a Flexicon filter receiver above the deck. Cork dust collected on outer surfaces of the receiver's filter material is periodically dislodged by short blasts of compressed air, causing it to collect in the lower section of the cylindrical dust collector's enclosure, which is emptied through an 8 in. (200 mm) manual gate valve at the enclosure's outlet.

The cleaned and conditioned cork is staged in six mobile bins that are emptied onto the Sand Cliff Deck for both nightly performances.

The machine is inspected and cleaned after each use, and the entire system is dismantled and cleaned annually. The filter-receiver's seven filter bags slip over steel cages, allowing easy removal. When required, the filter bags are simply laundered in a washing machine.

The Flexicon screw conveyor requires minimal maintenance. The most common task is removing bits of string, strands of hair, and other fibers, says Bush, "which sometimes tangle where the rotating screw attaches to the drive motor's shaft. We just cut it away with razor knives." Because that area of the conveyor has a window, it's easy to spot the tangles.

"The system works exactly as designed. We're recycling a good 80 percent of the cork. Outside of standard maintenance, we haven't had to do anything."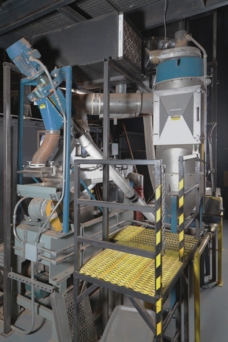 Click to enlarge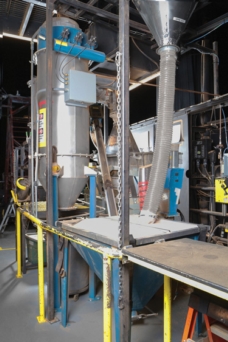 Click to enlarge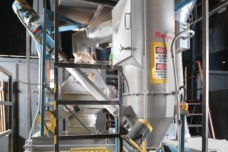 Click to enlarge
Cirque du Soleil's production of KÀ at the MGM Grand in Las Vegas operates a cork cleaning system that removes dust, undersized/oversized particles and ferrous contaminants. Cork 'sand' flows from the stage to the basement, from where it is conveyed pneumatically to a hopper that gravity discharges into a Flexicon Flexible Screw Conveyor, which in turns feeds the cork into a vibratory separator at controlled rates.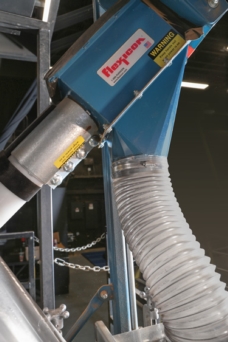 Click to enlarge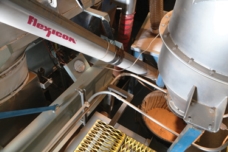 Click to enlarge
A shaftless screw rotating within an enclosed tube elevates the material and feeds it into the vibratory separator dust-free. The screw is driven beyond the point of discharge, avoiding material contact with bearings or lubricants.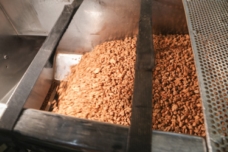 Click to enlarge

Click to enlarge
The cleaned and conditioned cork 'sand' is ready for the next performance.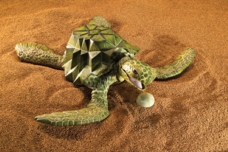 Click to enlarge
Cirque du Soleil's KÀ beach scene plays out on faux sand of cork granules which is automatically cleaned, conditioned and reused for each performance.
HH-0392